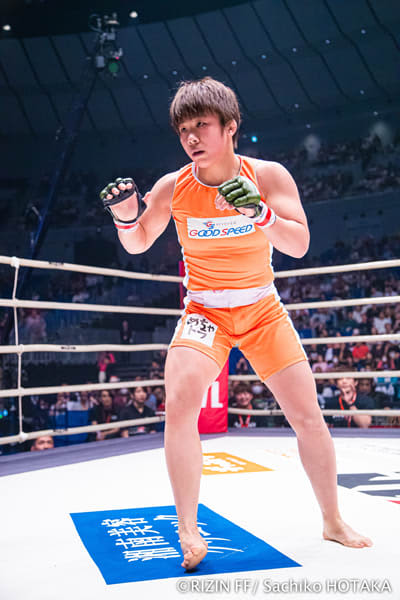 Photograph Kanako Murata aiming to be the best in the world with MMA = © RIZIN FF / Photographed by Sachiko Hodaka
<Wrestling> Saori Yoshida's rival, Kanako Murata (graduate of Nihon University), will challenge the world's finest UFC for the first time in the early morning of the 15th.
 
If you write the contents roughly
Kanako Murata, who gained strength at the mixed martial arts event "RIZIN", will finally challenge the world's best stage "UFC" on November 11th (early morning on the 14th of Japan time). 
Saori Yoshida played an active part in the women's 55 kg class as a rival, and at the same time as graduating from Nihon University, switched to MMA (Mixed Martial Arts). ... → Continue reading
 Japan Wrestling Association
---
Wikipedia related words
If there is no explanation, there is no corresponding item on Wikipedia.

Kanako Murata(Murata Kanako,19938/10 -) isJapan OfFemaleMixed fighter,wrestlingplayer.EhimeMatsuyama CityI'm fromAbe Gakuin High Schoolgraduate.Nihon Universitygraduation.She belongs to Reversal Gym Shinjuku Me, We.Her office isMILLENNIUM PRO.. ExUndefeated FC世界Straw classChampion.
Career
Under my grandfather since childhoodjudoStarted.Women's Judo 48 kg World ChampionHaruna AsamiBelonging to the same Iyo Judo Association, I was greatly influenced by Asami, who was 5 years older.[1]..In the upper grades of elementary school, he ranked 2rd in the national competition for the second consecutive year.[2]..He has also won the 4th grade of the elementary school girls' sumo tournament.
Junior high schoolAichiTaisei Junior High SchoolStudy abroad in Judo. 1 kg class national 52rd place in the 3st year, national victory in the 2nd year[3].. Won the Thuringian International Tournament in March 2008[4]..However, when he was three years old, he was good at it.Shoulder bag,Sukui NageRule revisions that prohibit tackle-type techniques,Beijing Olympics OfSaori YoshidaI turned to wrestling because I had a longing for[1]..And the achievements of judo were evaluated,Japan Olympic CommitteeIs a junior training system byJOCElite AcademyI passed the second grade.
High school goes to the prestigious Abe Gakuin High School for wrestling.National High School Women's Championship,Junior olympic,Junior Queen's CupSwept domestic junior tournaments such as.He also won the Asian Cadet Championship. In 2010World Junior ChampionshipWon a bronze medal in the 59kg class.furtherAll Japan Wrestling ChampionshipIn the semi-finals, he played against Yoshida, who he admired for the first time, but lost the technical fall.
2011 isFILA Golden Grand PrixWon the Yarigin International Tournament.It was the first senior international tournament title to be won.All Japan Wrestling ChampionshipHe played against Yoshida again in the final but lost.He won the 55kg class of the World Junior Championships. Although he lost to Yoshida in the All Japan Championship in December, he showed a good fight to score 12 points in the first period.[5].
Graduated from JOC Elite Academy in 2012Nihon UniversityGo on to school.This year, he won the Yarigin International Championships in January, the Asian Championships in February, the World Junior Championships in September, and the Golden Grand Prix, and made great strides in international competitions, winning five consecutive championships from the previous year's World Junior Championships. became.And in December, he won his first victory in the All Japan Championship, which Yoshida missed.
2013, JOC is the next generationSymbol athlete"JOC Next Symbol Athletes" first established as[6] Was elected as one of the six players.
From 2016 in parallel with wrestling総 合格 闘 技 OfRIZINWill also participate in the war[7].
UwwThe world ranking is 16th (as of May 2016).Of a professional wrestlerChihiro HashimotoIs a senior in high school / university.
総 合格 闘 技
RIZIN
August 2016, 4,RIZIN.1Debuted in mixed martial arts, played against Natalia Denisova and won the decision.
August 2016, 9,RIZIN FIGHTING WORLD GRAND-PRIX 2016 Open Weight Tournament 2nd ROUND1st class upRin NakaiPlayed against 57.15kg with a contract and lost one with a rear naked choke.
XNUM X Year X NUM X Month was held on X NUM XRIZIN.10Later became the UFC Women's Strawweight ChampionWeili ZhangIt was announced that he would play against, but Wayley was diagnosed with "left shoulder ligament injury" for one month due to an injury during practice and was absent due to a doctor stop.[8].
August 2018, 8,RIZIN.12でUFCHe played against Angela Magana, who has participated in the race, and won the 2R with an arm triangle.
August 2019, 6,Undefeated FCIn the debut Invicta FC 35, he defeated Liana Pirocin with a rear-naked choke.
2019年11月1日、Invicta FC 38のInvicta FC世界ストロー級王座決定戦でエミリー・デュコテと対戦し、2-1(48-47、47-48、49-46)で判定勝ちを収め王座獲得に成功した[9].
UFC
July 2020, 7, the highest peak in the worldUFCAnnounced a contract with [10].
2020XNUM X Month X NUM X Day,UFCIt was my first time to participateUFC Fight Night: Felder vs. two anjosPlayed against Randa Markos and won a 3-0 decision[11].
2021XNUM X Month X NUM X Day,UFC on ESPN 25: The Korean Zombie vs. IgeHe played against Virna Jandiroba, who ranked 13th in the women's straw class, but dislocated his left elbow when he made a left straight in 2R.[12], TKO lost due to doctor stop at the end of 2R[13].
BOXING RECORD
Mixed martial arts
14 match
(T) KO
One
Judgment
Other
draw
Invalid match
12 Win
2
4
6
0
0
0
2 Defeat
1
1
0
0
Main battle record
(Battle record of the judo era)
(After that, the results of wrestling)
Title
footnote
^ a b Kanako Murata (JOC Elite Academy / Matsuyama City, Ehime Prefecture) 17st "XNUMX years old aiming for the Olympics"
^ Results of Thuringia International Convention (2008.4.1)All Japan Judo Federation
^ <2013-2016> About JOC Symbol Athletes / Next Symbol Athletes JOC News February 2013, 2
^ Kanako Murata RIZIN Participation Announcement Women's Wrestling Tokyo Olympics Expected Star Nikkan Sports 2016/1/1
^ Notice of change of opponent of Kanako Murata due to Weili Zhang's absenceRIZIN Official Website May 2018, 5
^ [Invicta] Kanako Murata becomes Invicta FC World Strawweight Champion!Gong Martial Arts November 2019, 11
^ [UFC] Kanako Murata signs with UFC "I want to be the UFC world champion, the gold medal for me"Gong Martial Arts November 2020, 7
^ [UFC] Kanako Murata wins the full mark decision in the Octagon debut match!Gong Martial Arts November 2020, 11
^ The first round was okay, the second round, the moment I put out the left straight, my arm came offKanako Murata Official Twitter June 2021, 6
^ [UFC] Kanako Murata loses to doctor stop TKO in the second UFC match and loses to powerful Janji RobaGong Martial Arts November 2021, 6
Related item
外部 リンク