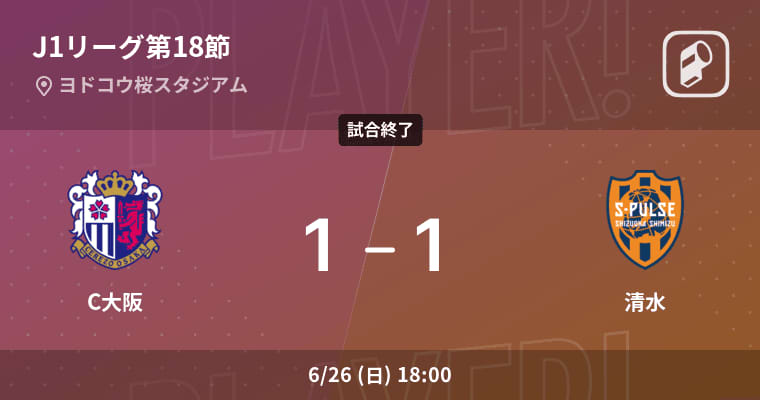 Photo Soccer Match Summary
[J1 Section 18] C-Osaka catches up with Shimizu and brings it to a draw
 
If you write the contents roughly
In the first half, Cerezo Osaka allowed Shimizu to lead 0-1. 
J1 League Section 18 will be held on June 6th (Sun) at Yodoko Sakura Stadium, where Cerezo Osaka vs Shimizu S-Pulse will be tested ... → Continue reading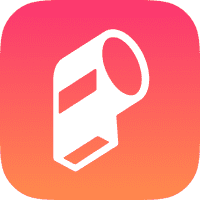 Player!
Sports entertainment application "Player!". We will deliver the latest news, breaking news, schedules, results, etc. of a wide range of sports from soccer, baseball to horse racing to athletics faster than anywhere else.
---
Wikipedia related words
If there is no explanation, there is no corresponding item on Wikipedia.

Cerezo Osaka(,West: Cherry Osaka) IsJapan OfOsakaOsaka,Sakai CityHometown[1],Japan Professional Soccer League(J League) Professional football club. Cerezo is a Spanish word that means cherry blossoms.Cerezo Osaka Co., Ltd.Is the operating company of Cerezo Osaka.
Overview
1957Yanmar Diesel Soccer ClubBecame the predecessor[1]Joined the J League in 1995[1]. Home stadiumYodoko Sakura Stadium[1] Is. Team name ``Cerezo (Cerezo)'' isSpanishMeaning "cherry"[1].. Sakura is the "city flower" of Osaka, and we hope to become a team representing Osaka City and Japan.[1].. Hometown from the beginning of membership until 2013OsakaIt was a city, but in 2014Sakai CityWas added[4].
マ ス コ ッ ト The狼of"Noble Variente Acce Lobby de Cerezo"(Lobby nickname. It means "noble and brave, son of the historic Cerezo wolf"). Since 2008, as the mother of the lobby "Elegante Esplendida Madama Robina de Cerezo" (nicknamed Madame Robina, "meaning "elegant and brilliant, historic lady of the Wolves" of the Cerezo family)" Was added. In addition,Gamba OsakaIn order to distinguish it from "C Osaka", "C Osaka" (C isCerezoAbbreviation) etc.
History
Predecessor
The predecessor was founded in 1957Yanmar Diesel Soccer Club[1].Japan Soccer League(JSL) 4 times,JSL Cup2 times,Emperor's cupWon three times each.
1993-1994 (JFL)
1993- Yanmar Diesel Soccer ClubCerezo Osaka was established with[1].

December 12-Nakanoshima, OsakaRihga Royal HotelAtYanmar Diesel (now Yanmar)-Nippon Ham-CapcomNew operating company jointly funded byOsaka Soccer Club Co., Ltd.(English notation: OSAKA FOOTBALL CLUB CO.,LTD)" and the team name decided by the open callCerezo OsakaWas announced. The first president of Osaka Soccer Club Co., Ltd. was the manager of the Professionalization Promotion OfficeKenji OnitakeIs appointed.

1994- Paul EmilioBecame the first director.
1995-2001 (J1)
1995-Joined J League[1].
1996-Emilio resigns due to poor performance. Was the coach to succeedHiroshi SowaIs promoted to director.

July 7-Navisco CupFukuoka8 points in the battle.Team most score record.
August 7- Osaka Nagai Stadium(Nagai) has finished renovation. Along with that, the home stadium of C OsakaNagai Second Athletic FieldChanged to Nagai.FlutterAs brazilianBotafogo FRAnd a friendly match (1-3 lost).
May 5 to October 11-Record ten consecutive losses in five league league games.Longest team loss record.

1997-DirectorCruzeiro ECFormer directorReville KurpiIs appointed. Capcom withdrew from investment.
1998- Yasutaro MatsukiBecame the director. In the league game, he scored more than 34 goals in 13 out of 3 games. Korean representativeHuang ZhongJoined the group.

April 4-in long stayIwata1-9 defeat in battle.J League most goals/scoring record.
August 8-8-5 defeat in Kashiwa battle in Nagai.J League highest score record per game.

1999- Rene desaireBecame the director.
2000-Appointed by Soejima. Korean representativeYoon CrystalJoined the group.

January 1-President of Osaka Soccer Club Co., Ltd.Kenji OnitakeからJunichi FujiiReplaced by. Onimu became the chairman.
August 1- Bundesliga, Germany OfBayern MunichAnd a three-year advisory contract. It became a single-year contract from 3, three years later, but the contract expired last year in 3. After that, Bayern MunichUrawaAnd formed a business alliance.
March 3-Osaka City Council approved by the city of Osaka 30 million yen investment in Osaka.
August 5- Akinori NishizawaAnd the axis of Hiroaki MorishimaMasaya NishitaniとJun RohSwept the league with a side attack. He won the 1st stage with one more win, but in the final section he was 1th in the race for remaining.Kawasaki FToV goalLost to win the stageYokohama FMI was kidnapped by.
Morishima and NishizawaBest elevenEarned. After the season, NishizawaLiga Espanyola OfRCD EspanolTransferred to.

2001-1st stage is 16th out of 14 teams.
2002 (J2)
2002- 2002 FIFA World CupHiroaki Morishima and Akinori Nishizawa as representative players ofYoon CrystalWere elected.

November 11-Section 16NiigataAfter winning 3-0 in the battle, J1 return was decided. The final ranking is 2nd.
2003-2006 (J1)
2003-1st stage is 5th. When entering the 2nd stage, Shirosei was far away, and Nishimura, who had been conducting since the J2001 relegation was decided in 2, was dismissed during the season. The rest of the season was head coachYuji TsukadaWill serve as the director, and the Emperor's Cup will advance to the third final,IwataLost to second place.
2004-Director has been appointedNadveza PeterWas unable to come to Japan due to an attack of angina, and he was an old friend of Nadveza on the day before the practice started.Huad MuzrovićWas suddenly appointed as director, but due to lack of preparation and policy differences with the club, he will be dismissed only in three official games (two league games and one cup game). The successor was a head coachAlbert PobolHas been promoted, but the defense has collapsed. I was fighting for the lowest rank in the final section of the 1st stageoakWas defeated at home and finished the stage at the bottom, and Albert was dismissed. From the 2nd stage to the previous yearOitaWas the director ofShinji KobayashiTook the lead in less than a year from Nishimura, and it was an unusual situation in which five directors acted as directors. The 1nd stage was sluggish, and at the end of the 5th round, if we lost 2 in the remaining 13 games, we would be the lowest in the year.J1・J2 replacement gameAlthough he was pushed to the point where he decided to go, he won the 14th round and the final round in a row, reversing Kashiwa in the final round and moved up to 15th place per year, and J1 remaining was decided. The 2nd stage is 12th. After the season, Okubo will be in SpainMallorcaTransferred to rental.
2005-Kobayashi continues casting. To GKG OsakaからMunehiro YoshidaEarned in full transfer, DF2003 Summer UniversiadeOf the winning memberKenjiro EzoeSucceeded in gaining 7 clubs at the end of the battle, from a test studentKazuya MaedaAlso joined.京都To FWMuroaki Kurobe, Tokyo V to MFNozomi HiroyamaBoth are acquired by rental transfer. Foreign players also changed completely from the Eastern European route that lasted for several years,Bruno Quadros,Fabinho,Ze CarlosEarned.

Initially aiming for 9th place, the opening was delayed by three consecutive losses, but new members Yoshida, Bruno Quadros and Ezo have settled on the starting member from the opening, Ezo of Section 3OmiyaAlthough he was seriously injured in the right knee belt rupture in the battle, Maeda filled the hole,VolanchFavinho andTomi ShimomuraSucceeded in rebuilding the defense together with Hiroaki Morishima, Akinori Nishizawa,Tatsuya Furuhashi・J1's leading attack team at that time, such as Muroaki Kurobe, and the gears of offense and defense are meshing, and if you make your first victory in the match against Nagoya in Section 4, you will not lose 11 games until the match against Shimizu in Section 8, 6 wins 5 minutes in the first half I returned with 6 losses. In the second half, G Osaka, Kashima, Urawa, and other high-ranking teams moved up while standing up, and overcame G Osaka in Section 33 to take the lead.
If he wins, he wins the championship, loses, draws his own victory and disappears, and he was leading by 1 point in the final section, FC Tokyo match,Additional timeSo we couldn't win because we could catch up with the same score. Next morningAsahi Shimbun"The tragedy of Nagai" was posted in. The final ranking was 5th, but 18 wins and 10 losses and 6 loss in the latter half of the match (Section 1 to the final round), 16 games undefeated, the longest undefeated record in the J League at that time, and the semi-finals including the Emperor's Cup. He lost 20 games until he lost to Shimizu. In addition, the average number of spectators this year was 1 per game, the highest ever.
Favino left the group after the season due to family reasons. OtherNunobeとSeiichi KutoEmits (bothFukuokaKurobe and Hiroyama did not renew the rental transfer contract (Kurobe rerented to Urawa again, Hiroyama returned to Tokyo V), etc., and wielded big veteran players in order to change generations. ..
Yoshida and Furuhashi were selected as the best eleven, and Maeda won the excellent rookie award.
2006-The third year of the Kobayashi system. From Tokyo VTakuya YamadaWith a complete transfer,Takahiro KawamuraTheIwataAcquired by rental transfer from. For new foreign playersPingoJoined the group. In terms of immediate strength, reinforcement was performed mainly in the middle stage, and new joining players were designated as reinforced players.Yasuhito MorishimaPlayed an active part in university selection including joiningKomatsu baseAnd while being a high school student, I expected a talent and signed a professional contractShinji Kagawa, The youngest member of the club, Yoichiro Kakitani, who was promoted to the top team at the age of 16, joined the group. In the league game, all four rounds from the start of the season were defeated by losing more than three goals, and at the end of eight rounds, one win, one minute, and six losses. Kobayashi was dismissed on April 4, and Yuji Tsukada, who had been a training advisor, became the second director.
2007-2009 (J2)
2007-The 50th anniversary of the establishment of Yanmar Soccer Club. In full transferMasayuki Yanagisawa(Tokyo V) by rental transferKenji Haneda(Kashima),Ryuhei Niwa(Kobe) won. On the contrary, it was rentedTakeshi Hamada(Tosu)WhenTakahito Chiba(Sapporo), Komatsu base (Nagasaki), and in the newcomerRitsumeikan UniversityからAkihiro Sakata, Foreign players from BrazilArrayAnd KoreaUniversiadeRepresentativeKim SwimEarned.

The league match started with three consecutive losses, and it won its first victory in the Round 3 Kyoto match. Section 4KusatsuKakitani scored the J2 youngest record goal (17 years and 3 months) in the battle, but Hiroaki Morishima suffered from a neck pain of unknown cause and left the battlefield, and the aptitude of the player who rejuvenated at once In order to identify it, he did not try to extend the points by trial and error using his strength, and at the end of Round 14, he was 4 wins, 3 minutes, 6 losses, and was J2's 9th place.
On May 5, the director Tonami and the coachTakayuki Fujikawa, GM's Akihiro Nishimura was dismissed, and former coach Levy Kurpi was appointed as the successor. At the beginning of his appointment, he was defeated with 1 win and 3 losses, but took advantage of the no-match period in Section 19Awaji IslandPlayers that changed from the previous use, such as infiltrating the tactics in the mini camp, the members selected Rin Komatsu as the starting member of the FW, Shinji Kagawa on the side, Ze Carlos and Masayuki Yanagisawa fixed to the left and right SB. Appointed. This proved to be a success and four consecutive victories from the 20th round. After the end of the 4nd cool, FW team who had comparatively plenty of strength transferred Kinshin Swim to Tosu, making use of the vacant foreigner's quota,VolanchWith Kurpi's liver to strengthenGermanoを獲得した。その後第3クールでは9勝3敗のリーグ1位の成績を残したが、第1クールでの出遅れと、京都(2勝2分)以外のJ1昇格争いを繰り広げた上位チームに大きく負け越した(札幌と仙台には1勝3敗、東京Vと湘南には1分3敗)事が響き、J2・5位に終わった。
Although he missed promotion, Komatsu scored 12 goals after being selected by FW, and Kagawa, Yasushi Morishima, and Kakitani were selected as representatives for each generation and are active in international competitions. However, even Yasushi Morishima and Kakitani were not regular, and they were elected to the U-23 national team before them, and they initially participated in the starting team.Takuya MossAs a result, competition within the team became more fierce, with limited opportunities to enter the bench after taking office at Krupi, and the strength of the team was raised.
2008-Munehiro Yoshida completely transferred to Fukuoka, Takuya Mossguchi千葉Moved to rental. Reinforcement from Kawasaki to GKTakashi AizawaFrom Shonan to the left SB, the successor to Ze CarlosHiroki OjiEarned in full transfer to FWKarekaWas acquired by rental transfer. In addition, Kazuya Maeda became the captain.

The openingMitoAnd won the opening race for a long time.
May is the end of the previous monthAtagoCounting from the battle, he won 7 consecutive wins without losing and emerged in 2nd place.
In June, injured players and suspended players continued. 6 win 1 min 1 losses.
In July, it ended with 7 win, 1 draw, 1 losses, and no further points.
There seemed to be signs of emergence in August, with 8 wins, 2 draw, 1 losses, butYusuke HommaBecame the stadium master and composed a new anthem in September, ended in a sluggish state, and in October, when he lost the direct confrontation with the third-ranked Sendai who was in the top battle, there were 9 points to be defeated. ..
In Osaka, C Osaka won three consecutive games in November, but Sendai sank with a loss of 11 minutes and one loss, so the difference in points was reduced to 3 and the final round was reached. C Osaka won Ehime, but Sendai also won, so it wasn't reversed and J2 was not promoted to 1th place.
Kagawa was selected as the Japan Olympics representative, and the play he showed during the match with Angola A representative in March is the Japan national team coach.Takeshi OkadaKagawa was convened as the first Japanese representative to be born in Heisei. C Osaka's representative selection for the first time in 4 years since Yoshito Okubo. Kagawa is the Kirin CupCote d'Ivoire representativeDebuted in battle and participated in two World Cup third qualifying rounds. Kagawa will be held in AugustBeijing Olympics Japan National TeamWas also chosen.
From Nagoya during the seasonHayao AoyamaFrom Yokohama FMInui, NewcomerKento ShirataniWe have acquired many players who have experience of representing Japan by generation including. This is Kurpi's policy to tend to acquire "players who have the potential to grow further by transferring to C Osaka". On the other hand, Kareka who did not fit the team was laid off, and Yasushi Morishima, whose participation opportunities decreased sharply, was transferred (complete after the season)OitaReleased to.
At the end of this year, Hiroaki Morishima retired.
2009-Germano,Tatsuya Furuhashi,Hiromasa Yamamoto, Masayuki Yanagisawa and others have all left, Takashi Aizawa, Ryuhei Niwa, and Jun Aoyama have finished renting, and Yasuhito Morishima and Takuya Miyamoto, who are currently on rental transfer, will also be completely transferred. However, Takashi Inui, Kenji Haneda, Takashi Hirashima, who had joined the rental transfer, moved to full transfer, and the main forces such as Rin Komatsu and Shinji Kagawa remained. Also, by rentalNaoya IshigamiEarned,Akinori Nishizawa ShimizuI returned from. A foreign player joined in the middle of the previous year and was fitKaioRemains,PalmeirasからMartinez,CruzeiroからThiagoAnd the two main players of the club2007 U-20 World CupKorean representativeKim Jin HyunToAsian border" Among them, the new member, Multiness, was highly evaluated, and was also rated as "top class voluntary in J1". Martinez himself had no experience playing in the clubs of the second division, and initially felt a resistance to the transfer, but when he learned that Cerezo is a team aiming for J1 promotion seriously, he said that such resistance has disappeared.[5].

It was the opening gameTosuThe battle won 4-1. After that, from March to April, on April 3thSapporoHe only lost one in the battle.
He will continue to accumulate points, but in JuneToyamaAnd lost to Tosu.
From Kashima on July 7thYuji FunayamaEarned. Funayama did not have the opportunity to participate immediately after joining, but gained a regular in the final game. It filled the hole of the multiness failure and greatly contributed to the rapid progress of the team.
From mid-August, he fell into a slump with no wins for three consecutive games.
8 month 30 dayKumamoto10 wins and 3 minutes from the battle, accumulated points, on November 11KusatsuAfter winning 5-0, J1 promotion was decided. At the same time, we achieved 100 points. The team that achieved 2 points or more in J100 is the third team after Kawasaki and Hiroshima (however, Kawasaki has 3 games and Hiroshima has 44 games). He never fell outside the promotion zone throughout the season.
Akinori Nishizawa, who returned to the team for the first time in three seasons after the Battle of Tosu on November 11, announced his retirement. Nishizawa initially planned to retire in Shimizu because his right ankle was in poor condition, but Morishima, who retired in the previous year, said, "I want to come back and raise it to J8." So it was a mess to drop it in J3... and at least if I could help a little to get it up to J1," he decided to return. May 2KumamotoThe first goal after returning in the battle. Although he wasn't in perfect shape, Kurpi hoped Nishizawa would have a positive impact on the team and kept him on the bench at all times. The retirement announcement on November 11 was that he didn't like the way the ceremony was held, so he said, "It's the place (laughs)."GifuHeld after the war (November 11)[6].. After retiring, I am aiming to become an agent, but in February 2010 I became Cerezo Osaka Ambassador.
その後はJ2優勝を目指すが、11月22日の仙台戦(0-1)、1試合置いて12月5日の鳥栖戦(1-2)と、いずれもアウェイで後半ロスタイムに失点して敗北。シーズン2位となった(2009 J2 final section).
2010-2014 (J1)
2010-Kenya Matsui(Iwata...Rental transfer period to Kyoto expired),Teruyuki Moiwa(FC Tokyo),Uemoto Ocean,Hiroshi Kiyotake,Daisuke Takahashi(Oita),Ryuji Banto(G Osaka),Amarau(CR Vasco da Gama) Is a complete transfer,Akihiro Kaname(G Osaka...expiration of rental transfer period to Oita),Adriano(Atletico PR) Is a rental transfer,Takahiro Ogiwara,Ryu Nagai(Both C Osaka U-18),Kenjiro Ogino(Mineyama High School) Was a new member and was a transfer of rentalNaoya IshigamiBecame a complete transfer. AlsoKim Bo Kyung(Hongik University), but transferred to Oita for the convenience of foreigners.

The opening gameOmiyaLost 0-3. Although he struggled in the early stages, when he won his first victory in the match against Kyoto, he defeated Kashima and was in 8th place in the first half.
May 5 of the final round of the first halfKobeKagawa in the warBorussia DortmundTransferred to.
Even after transferring to Kagawa, the patriarch, Kiyotake and others were fascinated by his success in filling in his holes, and because Adriano fit, the team's gears meshed and remained strong. In particular, Inui, who scored a large number of points with Kagawa last year, finally got better after moving to Kagawa and played an important role in the team.
In the battle for the championship, J1 entered the highest ever third place,AFC Champions LeagueAcquired participation rights. It was the first time in history that ACL participation was achieved in the year when the J2 club was promoted to J1 last year.
The Nabisco Cup lost to the Group League with 1 losses per minute, and the Emperor's Cup lost to Kashima in the fourth round.
2011-off seasonAkihiro KanameOf Spain's Riga EspanolaMallorcaStarting with the transfer toKenji Haneda(Kobe),Naoya Ishigami(Shonan),Tatsuya Yamashita(Sapporo),Daisuke Tada(Tottori) Is a transfer.Adriano(Atletico PR) completely transferred to G Osaka after the rental period expired. On the other hand, Kim Bokyung returned from Oita, and from KobeYutaro Takahashi(DFDaisuke TakahashiThe younger brother of) is acquired by a complete transfer.千葉からMasaki NakagoFrom G OsakaKurata Autumn(Chiba rental period expired) again from CR Vasco da GamaHodrigo Pingpong, Each with a fixed transfer.

Opening match with G OsakaOsaka DerbyLost 1-2.
In 2011, one top is pin-pong, and a system close to 1-3-4-2 in which 3 shadows of Kim, Kurata, and Inu move dynamically.
AFC Champions League 2011Then, although he participated for the first time, he passed the group league in the second place of group G. In Round 2 on May 5th, they won ACL's first Osaka derby with G Osaka in 24-16 to advance to the only final tournament in the J League. But in the quarterfinalsJeonbuk Hyundaiに2戦合計5-9(第1戦 4-3、第2戦 1-6)で敗れ、ベスト8で敗退。
In 8 monthInuiIn GermanyVfL BochumCompletely transferred to, Pingpong resigned after the contract expired (later joined Omiya). Receiving this,Fabio Lopez,FC TokyoMore MFYohei OtakeEach with a transfer with a deadline.
8 month 20 dayShimizuBattle/September 9HiroshimaIn battleRyuji BantoIs on the wayhat trickAchieved.
After the end of the season, "I have been conducting for five seasons since 2007, but I was promoted from J5 to J2 and participated in ACL. With that in mind, I think that one cycle has come to an end for Cerezo, and while it was a turning point, while I was alone in Japan, when I came back to a family in Brazil far away. I have come to the conclusion that theLevy KurpiRetired[7].
2013-G Osaka and Kobe will be relegated to J2 and will compete as the only J1 team in Kansai. Levi Kurpi will continue to serve as the new directorYouhei Takeda(Shimizu),Lee Seung Yoon(Huge High School),Toru Niiba(Kashima),Kenta Murahara(Tokyo, With a deadline),Kusunoki Junpei((I.e.),Swing(YamagataFrom rental back, old registration name blankinho),Edino(UANL Tigres) Is added, from the youthAkiyama Daichi,Takeru Okada,Kogure Daiki,Takumi Minamino4 people have been promoted.Kenta Goto,Daisuke TakahashiHas expired,Tetsuya Funatsu,HebelchLeft the group after the transfer period expired,Kenjiro Ogino Albirex Niigata Singapore,Kodama Arata Oita,Kenya Matsui TokushimaMoved to (with time limit). Both transferred to Oita last season with a deadlineRyosuke Kamata TheJ2-GunmaToNaoto Noguchi TheJFL-Biwako, Joined again with a deadline. Also, from September 2012A league-Perth Glory FCWas transferred to theRyu NagaiExtended the transfer period until April 2013, 4. Kota Fujimoto will continue to serve as the captain of the 30 season, as in the previous year.

The opening round was the goal of Kaicani Yoichiro, who inherited the uniform number 8 from this year.NiigataWin 1-0 against your opponent. It was the first time in 1 years since the opening race victory in J1999 since 14.[10].. In addition, Noriyuki Sakamoto achieved 1 J100 league appearances in this match.
The overseas challenge was whispered without renewing the contractMurata Kazuya, It was announced on March 3 that the 30 contract will not be formally signed.[11].. After that, MurataShimizuJoined. Similarly, no retirement was announcedKim Chang Hoon TheUlsan Hyundai Oura Shipbuilding Trugole FCTimed transfer to was announced[12].
On April 4, it was announced that Yohei Takeda was diagnosed with a medial collateral ligament injury on the right knee for a total recovery of 9 weeks. With the third GK, Ku Sung-Yoon entering the bench,BrazilianOnly 3 out of 2 players can join the team, April 4, last seasonGifuWas playing inDaisuke TadaUrgent reinforcement[13].. For Tada, this is his first return in four seasons since 2009.
6月10日、契約期間が6月30日までとなっていたシンプリシオの契約延長が発表された。契約期間は2013年7月1日から2014年1月1日まで[14].
Shota Inoue on July 7KitakyushuTo[15]On the 12th to Ryu Nagai's Perth Glory FC[16]And on the 26th, Ryuji Banido'sTosuTimed transfer to was announced[17].. The period is until January 2014, 1.
On July 7, for the first time as a youth, three players, Yoichiro Kakitani, Aya Yamaguchi, and Takahiro Ogihara, were selected to represent Japan. Among them, Yamaguchi and Ogihara were first selected as members of the Hanasaka Club. On August 15, Kim Jin Hyun was selected as the Korean national team for the first time in a year.
I left the group last season because of knee surgeryDaisuke TakahashiDecided to retire, and it was announced on the club's official website on July 7.[18].
July 7, with Cerezo Osaka as the "Manchester United Tour 26 PRESENTED BY AON Yanmar Premium Cup"Manchester UnitedFriendly Match was held at Nagai Stadium. This was a triumphal match for Shinji Kagawa, who stood on the pitch as a member of Manchester United, and ended in a 2-2 draw as Cerezo scored a goal near the end. After the match, Kagawa has left words such as "I'm glad that I was able to grow up" and "I'm proud of the history of soccer."[19].
From around October, "There is also a plan to change the club's philosophy from next season."Okano) Etc. and news that the director / coach team and the strengthening department manager are all replaced[20]Once used to attend CerezoNanami HiroshiAs their names were selected as director candidates, on November 11, director Krupi, head coach Mattel, physical coach Hodouho, strengthening directorSatoshi KajinoHas officially announced his retirement (contract expiration). In announcing his retirement, Krupi said, "When I look back at the years I spent at Cerezo, I can only remember the heartwarming memories. I will continue to support Cerezo in the future."[21].. After all the season is to the endAFC Champions League 2014In connection with the competition for participation rights, at the end of the 33rd round, he dropped to 6th place, but he won the final round, and was 3rd and 4th place in the previous round, but passed Kashima and Urawa who were defeated in the final round and finished the league match in 4th place. Finished, I missed the acquisition of the right to participate in the third place,Emperor's cupThere was a possibility of participation depending on the result of.
This season, Kakitani and others are playing an active part, and the popularity has increased from around summer. Young women began to crawl on the practice ground, and the media also reported "Cele woman" etc.[22].. As a result, spectator mobilization increased in the 2013 season[Note 1]By the end of the year, the annual seat sales of the next season reached the record high level of this season.[24].
2014-New director was FC Tokyo coach until the previous yearRanco PopovichIs appointed.KitakyushuからHiroyuki Takeda,京都からYuta SomeyaとAkira Ando,FC TokyoからHasegawa Arya Jasur,OitaからKenta Tanno,Kansai UniversityからYuki OtaniHad joined, transferred with a deadlineRyu Nagai,Takeru OkadaHas returned. on the other hand,Teruyuki Moiwa Thai Premier League OfBangkok Grass FC,Kim Seiji Mito,Tomoshino Yokoyama Omiya,Youhei TakedaCompletely transferred to Oita, and had a fixed transfer during the 2013 seasonShota Inoue,Ryuji Banto,Ryosuke Kamata,Kenya MatsuiBoth are Kitakyushu, which is the transfer destination with a deadline,Tosu,Gunma,TokushimaComplete transfer toKogure DaikiWas transferred to Tokushima for a limited time, and also for the 2013 season with a fixed transferKenta Murahara,Takuma EdamuraAt the end of the contract with FC Tokyo,ShimizuBack toNaoto Noguchi,Daisuke TadaAnd will not renew the contract. January 1,Uruguay National TeamでSouth Africa World CupMVP'sDiego ForlanOn October 2stHamburger SVからGoiko KacharWas awarded as a fixed transfer until July 7st.

It will be the second time in 3 yearsACLThen, I passed the group league in the second place of group E. Achieve the final tournament in two consecutive games. But last year in Round 2 of the final tournamentChinese Super LeagueAnd won the ACL two crownsGuangzhou constantに2戦合計2-5(長居での第1戦 1-5、広州での第2戦 1-0)で敗れ、ベスト16で敗退した。

On June 6, early cancellation of the contract was announced by the intention of Kachar himself. Yoichiro Kakitani on July 7th in SwitzerlandFC BaselComplete transfer to.
Due to poor performance, the director's contract with Popovich and the head coach were announced on the 9th. New director on June 6Marco PezzaioliIs appointed.
August 8th, as the successor of Kakitani,StuttgartFW who leftKakauJoined the transfer by contract until June 2015.
On September 9, the captains Yamaguchi and Fujimoto were injured, and Japan's representative Ogihara and South Korean representative Kim Jin Hyun were missing in the representative convocation, and the second match with the Nabisco Cup quarter final Kawasaki Frontale 7- He won the first victory after assuming the position of Pezza Iori by winning 2 but he lost the first goal at Yanmar Stadium by 3-2 and fell short of the total points, losing to the quarterfinals following last year. ..
Even after Pezza Iori took office as a director, he could not win the league match at all and was in a downgrade. September 9th, Pezza Iori and head coachKarsten LaquisOf dismissal and youth supervisionYuji OkumaWas appointed as director, but was defeated by Kashima on November 11 and the third J29 relegation was decided.
2015-2016 (J2)
2015-New directorPaulo AutouoliBecame the director.Keiji Tamada,Hashimoto Hideo,Sekiguchi Kunimitsu,Teruyuki Moiwa,Kenta Murahara,PabloEarned. Also,Nakata SotaEarned for a limited time,Kogure DaikiReturned from the deadline. From youthMasaki Sakamoto,Masaki Okino,Masataka Nishimoto,Maekawa Taiga,Onui HayatoIs promoted.Tofu Jun,Takamasa University,Ken Sugimoto,Takumi Minamino,Golden Holy Temple,Seiji KurokiCompletely transferred,Yuki Otani,Plain KaiMade a transfer with a deadline.

Six games have not been lost since the opening of the league (6 wins and 3 minutes), but from Section 3Kanazawa-Gunmaに連敗するなど8試合で3勝5敗、第8節から19節までは、第10節終了後に一度4位になったのを除き、順位は7位以下の昇格プレーオフ圏外で推移する。第15節から9試合負けなし(4勝5分)で、第20節終了後4位に浮上してからは、プレーオフ圏内から落ちることはなく、第30節からは3位をキープしていたが、第35節、4位FukuokaLost in direct confrontation with and retreated to 4th place, continuing Section 36KitakyushuDespite winning in the match, after the match, Autouori resigned in front of the player and the team was confused. Of the strengthening managerKiyoshi OkumaSuddenly became the director. The final ranking is 4thJ1 promotion playoffsBut it was drawn to Fukuoka in the final. Due to the promotion play-off regulation (in the case of a draw, the higher league team won the match), J1 was not promoted.
hereSee also
2016-The second year of the Okuma system.J3 league"Cerezo Osaka U-23" was launched.Switzerland-BaselからYouichiro Kakitani,(I.e.からKen SugimotoReturned to the team with a complete transfer. From KanazawaKiyohara Shohei,KashimaからKazuya Yamamura,FC TokyoからRiku MatsudaWas a complete transfer, and was a time-limited transfer subscriptionNakata SotaIs a complete transfer,Yuki Otani(Sagamihara),Onui Hayato(Suzuka),Yonezawa Rei(Akita),Maruoka Mitsuru(Bundesliga-Dortmund) Returned from the transfer destination with a deadline, as a new foreignerSouza,Bruno Menegeu,Ricardo SantosFrom the youthTakeshi Kishimoto,Tomoya ShojiPromoted from universityRyuji Sawakami,Kyoo KimotoWas won. On the other handTakeru Okada,Pablo,Edmiwson,Magno cruzLeft the group,Yamaguchi firefly Germany Bundesliga 2nd Division-Hanover,Ryu Nagai Nagasaki,Yoshino Shunmitsu Kofu,Yuta Someya 京都,Kusunoki Junpei TosuComplete transfer to,Maekawa Taiga TokushimaTransferred to a deadline.
hereSee also
2017-(J1)
2017
2018
Youn system second year.UrawaからToshiyuki Takagi,OkayamaからEiichi Katayama,Pohang SteelersからYang Dong Hyun,HJK HelsinkiからAtomu TanakaEarned. Also,Bangkok United FCからChaw Wat Villa ChardEarned as a fixed-time transfer,FC TokyoI was enrolled with a fixed transfer fromKouta MizunumaIs a complete transfer.Kwansei Gakuin UniversityからNaoya Uosato,Fukuoka UniversityからNagaishi Takumi,Nagasaki Institute of Applied Science High SchoolからMizuki AndoIs a new member. From U-18Hiroto YamadaとMotohiko NakajimaWas promoted.
First appearanceFUJI XEROX SUPER CUPThen,(I.e.It won 3-2 and won the first victory.Emperor's cupThe winning team won the tournament in 2008HiroshimaIt has been 10 years since then.
Play for the first time in 4 yearsAFC Champions League 2018It is,Guangzhou constant,Jeju United FC,Buriram UnitedPlay against. He won the first round against Jeju and the second round against Guangzhou Hengda, and scored four points in total for the two trials. In the match against Buriram in Section 1, Sugimoto, Yamaguchi, Kakitani, Kim Jin-hyeon and others took the lead in the match against Sapporo, which was held four days ago, without any starting lineup, and they faced the match and lost two goals. In the 2th round, when Buriram was at home, Yang Dong-hyen's own goal and other goals lost two goals, and Sugimoto finally scored a tie goal just before the end to draw. We won the match against Jeju in Section 2, and hoped to advance to the final tournament.Tianhe StadiumIn the final round of the Guangzhou Hengda War, starting with Kiyotake, who has just recovered from his injury, Sugimoto, Yamaguchi, Kakitani, Kim Jin-hyeon, Maruhashi, etc. Replace 3 starting members without accompanying[30] In the match, the match was defeated by Guangzhou Evergrande 1-3, and Buriram, who was competing for the final tournament, defeated Jeju, resulting in 3rd place in the group league and the first group stage defeat in the team's history. At the post-match conference in the final section, Yoon responded to the reporter's question, "Do you prioritize the J-League over ACL?" And answered, "It is true that the J-League is prioritized over ACL." I admit that I did[31].. For this starter replacement plan,Twitter,Internet bulletin boardThe pros and cons were divided[30].
In the league games, games that cannot be won continued, such as ending with draws in the first three games, and the first black star in Section 3 away Kobe. From the 4th to the 5th section, it seemed that they would be regained at once with 8 consecutive wins, but they lost 4-9 to the away Osaka derby (Gamba Osaka) in the 1th section. By the 0th round, he had rebuilt with 14 wins and 3 minutes, but from the 2th round, he stalled with 15 minutes and 8 losses in 4 races. Sugimoto, who scored 4 points in the previous year, finished with only 22 goals and the attacking team slumped, finishing in 5th place outside the ACL area.
Participated in the Levan Cup from the knockout stage. He lost to the Shonan Bellmare in two games with a total of 2-2 (5st leg 1-0, 3nd leg 2-2) and was eliminated in the quarterfinals.
He won the Emperor's Cup until the third round, but lost to Vanforet Kofu in the fourth round with 3-4 and did not win consecutive titles like the Levin Cup.
Lost 10-6 against the Osaka Derby (Section 29) with Gamba Osaka held at home on October 0th. Immediately after that, it was reported that Director Yoon will retire for the current season only, and officially announced by the club on November 1.[32].
2019
Kei Yamaguchi and Kenyu Sugimoto, who were born from the academy and were symbolic of the club, moved to Kobe and Urawa, respectively. Kazuya Yamamura also moved to Kawasaki, and the main players who made a big contribution to achieving the double crown in 2017 left the group one after another. I was worried about a significant reduction in force, but from SapporoKen TsukuraFrom SendaiHiroaki OkunoFrom KobeNaoyuki FujitaJoined by full transfer. In the foreign MF frame that Osmal has leftLeandro DesabatIs newly acquired, and the attack teamBruno MendesWe obtained a large number of players who will be able to fight immediately, and prevented a decline in strength. In addition, Kentaro Wu and Mitsuru Maruoka have both returned from fixed-term transfers from Fukuoka and Yamaguchi.
Prior to last year, he led Tokyo Verdy as a new commander to replace Yoon Akira.Miguel Angel RotinaInvited. Ivan Barranco, who was assisting Rotina as head coach, also joined.
This year, the front system has changed significantly, and Hiroaki Morishima, who was the club OB's legend and head of the strengthening division, took over as Minoru Tamada, who has been president for 2016 years since 3. Former club OB players take office as president of J club in SapporoYoshikazu NonomuraIt is the second person in history.
The league opening gameAndres Iniesta,David Villa,Lucas PodolskiWe have a strong attack team such as, and welcomed Kobe, who is also related to Yamaguchi's transfer destination, to the home. Despite being a long-time defensive game, the defending team defended the lead goal scored by Tatsuya Yamashita's heading goal in the 77th minute and won 1-0. After that, low flight continued due to lack of maturity of the team, but gradually increased the points as Rotina's defensive tactics penetrated, and in Section 13 FC Tokyo, who had been undefeated until then, was in the lead. victory. Yokohama F. Marinos, who won the season, won both home and away, and he won 27-3 in the 1th round Osaka Derby against Gamba Osaka at home and the first derby in seven years. For example, he won the race, and at one point he moved up to 7th place where he could hear the battle for the championship. He lost 4-28 to the home game Kashima in Section 0 and dropped out of the battle for the championship, but he still managed to reach fifth with 1 points. With a strong defensive force this year, the season's 59 goals were the second lowest in history after the 5 goals Oita recorded in 25. On the other hand, the total score remained at 2008 points due to the fact that Tokura and Mendes were injured during the season.
In the Levan Cup, he passed the group stage (C group) with 3 wins, 2 draws and 1 loss, but at the playoff stage he lost to FC Tokyo in a total of 2-1 wins and missed the final T advance.
He won the Emperor's Cup until the third round, but lost 3-2 to Sagan Tosu after losing 4-4.
2020
The second year of the Rotina system.Kouta MizunumaCompletely transferred to Yokohama F Marinos.Atomu Tanaka, Souza and Takaki Fukumitsu also left the group, but from Montedio YamagataTatsuhiro SakamotoCompletely transferred from Sint-TruidenYuta Koike, From EupenYuta ToyokawaAcquired.Acquired Lucas Mineiro as the successor to Souza.
In the pre-season match with Kyoto Sanga (Sanga Stadium by KYOCERA) held prior to the season, Sakamoto scored a victory.
After winning Oita in the opening round, the match was postponed due to the new coronavirus.
After the reopening, Osaka Derby (Panasonic Stadium Suita) won the league match away for the first time in 2 years with 1-17.
Sakamoto, a new force, and Katayama, who deepened their understanding of Rotina's tactics, kept a stable ranking.
Although he won the group league in the Levin Cup, he lost to Kashiwa Reysol 0-3.
Although he was 4th in the league, he received the result of the Emperor's Cup.AFC Champions League 2021Participation in the playoffs has been decided.
In November, Rotina's retirement was announced.
2021
Yoichiro Kakitani and Yasuki Kimoto have completely transferred to Nagoya Grampus.Eiichi Katayama goes to Shimizu, and the contract with Bruno Mendes (Fukuoka), Desabato, Ken Tokura (Nagasaki), and Koji Suzuki (Niigata) has expired.Matej Jonjic, who was the cornerstone of the defenseShanghai Shenhua(Super class) Completely transferred.
Levir Culpi returns to Cerezo Osaka as the new coach since 2013.
GK as a new forceDang Van Lam, DFRyosuke Shindo,Naoto Arai,Koji Toriumi,Thiago,Dankler, MFHarakawa Riki,Taishi Matsumoto,Hirotaka Tameda, FWRiki Matsuda,Adam taggart,Mutsuki Kato,Yoshito OkuboJoined.
In the opening round, Yoshito Okubo's goal was the final point, and he defeated Kashiwa Reysol 2-0-year-old Ryuya Nishio is holding a fixed position while foreign players cannot come to Japan due to the new coronavirus.He was in good shape early on, but then fell ill with a series of injuries.
DF Dankler joins in just 4 monthsAl Ahli(Saudi Arabia Part 1) Was announced on June 6th.
Levir Culpi retired on August 8 due to poor results.On the same dayAkikuIt was announced that the coach will be appointed as coach.
On August 8, it was announced that it had agreed with Takashi Inui to return for the first time in 29 years.
He finished in 12th place in the league, and was far short of the goal of 3rd place and ACL participation set at the beginning of the season.
In the Levin Cup, he made his second final appearance in four years,Nagoya GrampusLost 0-2 to runner-up.
In the Emperor's CupUrawa RedsLost 0-2 to lose the semi-finals.
With the end of the seasonYoshito OkuboRetired from active duty.
2022
The second year of the Kogiku system.
In the previous year, the team was flashy, but in 2022, we calmly and objectively determined the strength, and made solid reinforcements such as accurately filling in the positions where the strength was insufficient.[33].
Naoyuki Fujita(Tosu),Yuta Toyokawa(Kyoto),Yuta Koike(Yokohama FM),Tomoya Shoji(Kanazawa),Tatsuya TabiraReleased (Iwate) with a complete transfer.ThiagoTransferred to Nagoya for a limited time. Although I was expected to represent U-20 Japan, I was not blessed with the opportunity to participate.Nishikawa JunTransferred to Tosu for a limited time.Tatsuhiro Sakamoto Ostend(Belgium 1st division) Transfer for a limited time.Yuko Seko Grasshopper Club Zurich(Swiss 1st Division) Completely transferred.
From UrawaRyosuke YamanakaFrom OkayamaSatoki UejoFrom TokushimaNorimasa SuzukiFrom YamagataHikaru NakaharaFrom NagasakiSeiya MaikumaAcquired by complete transfer.The contract for Kashiwa has expiredTatsuya YamashitaJoined and returned for the first time in two and a half years. From U-2Kosei OkazawaIs promoted.ForeignersSanta ClaraEarn more with a complete transfer. In 2021Shanghai ShenhuaReleased toMatei YonikWas acquired by a complete transfer and returned for the first time in two years. I played in Fukuoka in 2Bruno Mendes(Deportivo Maldonado) Returned for the first time in two years due to a loan transfer.
On June 6, announced the cancellation of the contract with Takashi Inui. On April 9th, he was banned from participating in a total of eight games and participating in the general practice due to abusive words to the staff when he was replaced in the middle of the second half of the J4 Kashiwa match. Although his disposition was lifted on May 5, Inui himself continued to decline to participate in the practice.
Grade
Title/Award
Domestic title
Recognition
J1 league
1999 J1 Huang Zhong
Fair play award
2009 Hiroaki Morishima
2013 Yoichiro Kakitani (Section 33/Battle with Kashima/38 minutes)
J2 league
Top scorer
Asian Football Federation (AFC)
J League Cup
Best Player Award
Other
2003 J League Division Yoshito Okubo
2013 New Face Award Takumi Minamino
Kansai Sports Award
2009 Special Achievement Award Hiroaki Morishima
2018 Cerezo Osaka[34]
Stadium etc.
Home stadium
Home stadiumYodoko Sakura Stadium(Nagai Stadium)[1].. In addition, the past home game holding stadium is "Cerezo Osaka performance list by year # Number of visitors by year"checking.
Driving range and clubhouse
Training for top teams since 2013Maishima Sports IslandUsing "Cerezo Osaka Sports Club Clubhouse Ground"[1].. This practice area was rented from the existing Maishima ball stadium from Osaka City, and was converted into natural grass and a new clubhouse was established.[35] So, there are 2 natural turf and 1 new artificial turf, which is also used by the sub-organization team.[36].
It was used as a practice field until 2012Minamitsumori Sakura ParkSports squareCerezo Osaka Sakai LadiesAnd used by the Academy. Also, from 2010 onwards, it is limited to the period of curing natural grass for about one month from mid-September every year.J-GREEN SakaiMay be used. Formerly Maishima Ground, which used to be in the northern part of Maishima Island (a place different from the current facility, closed in April 2010)AmagasakiAlso used by Yanmar Ground (currently used by the subordinate team).
sponsor
uniform
Uniform color

| カ ラ ー | shirt | Pants | stockings |
| --- | --- | --- | --- |
| FP (1st) | pink | Navy blue | Navy blue |
| FP (2nd) | white | white | white |
| GK (1st) | black | black | black |
| GK (2nd) | 绿 | 绿 | 绿 |
| GK (3rd) | pink | pink | pink |
Team color
Uniform design
The 1994st uniform for field players used from 1996 to 1 has shirts and stockings.pink, PantsSky blueMet. Since 1997, the chest design has pink x navy blue vertical stripes, but since 2006 the vertical stripes have become less emphasized (2006-2007 models have two blocks with a dark blue right chest and pink left chest. Year-2 model is a design that reverses the previous year's color scheme, 2008-2009 model is a pink block with three thick vertical stripes 2010 blocks).
The 2012 model has more pink, with pink on the chest and pink on the bottom with vertical stripes of navy blue. The 2013 model had dark blue diagonal stripes on the right chest and left waist. The 2014 model has no blue stripes and the pink color has changed. The 2005 2nd uniform for field players is thin on shirts, pants and stockings.グ レ ーWas adopted.
In the opening game of Kingshou Stadium on August 2010, 8, I wore a memorial uniform with a special design (pink is one block in the middle).
2017 J1 Section 32 on the left chest emblemLevan Cup of the same yearA star mark indicating the victory was added. afterwardsEmperor's Cup of the same yearHowever, with the victory, one more star mark was added at the same position from the 2018 model.
Uniform sponsor
Posting location
Sponsor name
Notation
Posted year
Remarks
chest
Yanmar Holdings
YANMAR
2006-
1994-1996 sleeves
1997-2005 is the upper back
clavicle
Nikkon Holdings
NIKKON
2022-
Posted on the left
Yodogawa Steel Works
ウ ド コ ウ
2021-
Posted on the right
2021 clavicle left and right
Upper back
Nippon Ham
Nipponham
First half of 1994
2006-
Late 1994, 1995-2005 is the chest
(2006-2009 is "NIPPONHAM"
(2010-2014: "Nippon ham")
Lower back
Shinha corporation
SINGHA
2016-
sleeve
sharp
SHARP
2019-
Front of pants
Nakabayashi
Nakabayashi
2018-
Back of pants
Capcom
CAPCOM
February 2022- [37]
Chest in the first half of 1994
Late 1994, 1995-1996 upper back
Uniform supplier itinerary
Successive uniforms
Past uniform sponsor notation
Cerezo Osaka U-23
Cerezo Osaka U-23(Cerezo Osaka / Under Twenty Three, abbreviation: C size 23) is from 2016 to 2020J3 leagueSoccer team (U-3 team) consisting of players under the age of 23 belonging to Cerezo Osaka who participated in (J23)[39].
Overview (U-23)
December 2015, 12, at the J League Board of Directors2016 seasonIt was announced that "U-1 team" of J2 J23 club participates in J3[40]Approved as one of the teams participating in the first year[39].. With the thought of "bringing up the next talent to play the top team in a tough game environment"SAKURA NEXTIt has been given its own nickname (Sakura Next)[38].
Positioning U-23 as the top category of training (or between training and the top team), we practice separately from the top team to train the team.[41][42].
Nikkan Sports dated July 2019, 7[43] In the article2020It was reported that it is expected that the U-23 team will end the race at the end.As a result, "Cerezo Osaka U-23" will end its participation in the J2020 League in the 3 season.
Biography (U-23)
2016
For the first year, he was in charge of the top team from the middle of the 2014 season, and in 2015 he was the director of the Academy (U-18).Yuji OkumaWas appointed[44].. Also, in the first year, young players rarely went up to the top team, but they participated in the early game with overageKiyohara ShoheiClimbed to the top team[45].
2017
Second year of Okuma system. In the opening gameYuko Seko,Kida positiveA high school first grader was also selected and challenged at an average age of 1 years. Also, at the beginning of the race, I had a hard time changing players,Akizawa Hayaki,Masataka NishimotoIs involved in the top, youthJun KobayashiHas grown through repeated games[46].
2018
Okuma system third year. From Section 3 to Section 3, he recorded 12 races without loss (10 wins and 5 minutes), and temporarily entered second place. After that, he lost his position due to two consecutive losses, but he recorded four consecutive victories from Section 5 to Section 2, and finally the number of victories exceeded the number of defeats for the first time after the team was established, and the ranking is also the highest ever. The season ended in 2th place. For individuals,Yonezawa ReiShowed a record of 6 goals in 12th place.
2019
The fourth year of the Okuma system.It remained strong from the beginning and took the lead in Section 4.In the end, it set a new record high in the previous year and finished in 6th place.
Activity Policy (U-23)
Strengthen and nurture the players who take goals[38]
Strengthening and training players who take the ball[38]
Strengthen and nurture players who are greedy for victory[38]
Number of home games held (U-23)
"-": Closed due to renovation
Grades (U-23)
Award (U-23)
OUR TEAM
By individual
uniform
Uniform design and uniform supplier are the same as the top team.
Chronology of successive uniform sponsors
Academy
The academy of Cerezo Osaka has produced many athletes in the Japanese national team of each age,Youichiro Kakitani,Yamaguchi firefly,Takahiro Ogiwara,Ken Sugimoto,Takumi MinaminoAre selected as representatives of Japan. Attention is also being paid to the "Hanasaka Club", a training organization of Cerezo Osaka.[47].
From 2016, the long-term club philosophy of "SAKURA SPECTACLE" was announced, and the academy was called "Celessa" in Spanish.
Academy composition
The Academy of Cerezo Osaka, as a selection team by age,Type 2"High school student" "U-18",Type 3(Junior high school age) "U-15", "West U-15", "Wakayama U-15",Type 4There is "U-12" of (elementary school age). These form the following pyramid structure.
Composition of Cerezo Osaka Academy As of 2017
OUR TEAM
Registration type
U-18
Type 2 (high school age)
U-15
Type 3 (middle school age)
West U-15
Wakayama U-15
U-12
Type 4 (elementary school age)
In 2009 Ladies U-15 (Cerezo Osaka Ladies) Was established and since 2013Nadeshiko LeagueHe is also focusing on the development of female athletes, such as by entering the "Nadeshiko Challenge League" equivalent to the second division.
Hanasaka Club
The Hanasaka Club is a training support club (individual sponsorship association) that was established in 2007 to support the training organization of Cerezo Osaka, and was established in XNUMX. Collect membership fees each year from individuals and groups to assist in expenses such as training camps, expeditions, practice games, and meals. The Hanasaka club membership fee is completely separate from the club operating fee and is used only to support the activities of the nurturing organization.
Cerezo Osaka Sports Club
Since 2012, the teams of all training organizations, including youth,Cerezo Osaka Sports ClubIs operated by.
Native player
Main grades
U-18
U-15
West U-15
Takamado Palace U-15 Soccer League Kansai Sunrise League
U-12
BGM
Player introduction
Player admission
Cerezo Osaka Support Navigator Cerezo Girl
Cerezo Osaka Support Navigator
Focusing on "Home Town Activities" of Cerezo Osaka, he is active as an advertising tower of Cerezo Osaka.
It was born in 2016, triggered by the planning of the Komakawa Shopping Street Festival.Therefore, the 1st gen member is "" in Komagawa, Higashisumiyoshi-ku, Osaka.Komakawa Shopping StreetThe model belonging to Kansai Collection Entertainment, which was selected at "Kansai Collection presents KOMAGAWA RUNWAY supported by Cerezo Osaka" held on July 2016, 7, has been appointed.
Disseminating the appeal of Cerezo by utilizing the power of digital, centered on "disseminating information on SNS (TikTok)".
Conducted online auditions using the video distribution apps "Mikucha" and "TikTok".In the first year of 2021, five of the 720 participants who won the screening will be newly selected as Cerezo Girls. From February 5, 2021 "Cerezo Girl TikTok Account, And disseminate the charm of Cerezo through TikTok.
Settlement
The financial results of Cerezo Osaka are as follows.
Profit and loss
| 年度 | income | Advertising fee | Admission fee | Allocation | Other | cost | expense | Personnel expenses | Administrative expenses | Profit | Net income |
| --- | --- | --- | --- | --- | --- | --- | --- | --- | --- | --- | --- |
| 2005 | 2,311 | 1,110 | 392 | 413 | 396 | 2,283 | 1,599 | NA | 684 | 28 | 79 |
| 2006 | 2,108 | 1,161 | 328 | 242 | 377 | 2,318 | 1,697 | 1,150 | 621 | -210 | -199 |
| 2007 | 2,066 | 1,102 | 200 | 109 | 655 | 2,045 | 1,497 | 889 | 548 | 21 | 208 |
| 2008 | 1,940 | 1,293 | 216 | 106 | 325 | 1,999 | 1,448 | 824 | 551 | -59 | -64 |
| 2009 | 2,241 | 1,252 | 278 | 122 | 589 | 2,319 | 1,650 | 1,085 | 669 | -78 | -84 |
| 2010 | 2,554 | 1,282 | 428 | 290 | 554 | 2,528 | 1,938 | 1,301 | 590 | 26 | 3 |
Source: List of J1 club financial results for each year. 2005, 2006, 2007, 2008, 2009, 2010
Amount of money: million yen
Personnel costs are included in the project cost.
| 年度 | Revenue | Advertising fee | Admission fee | Allocation | Upbringing | Other | cost | Personnel expenses | match | Home | Upbringing | woman | Sale | Profit | Net income |
| --- | --- | --- | --- | --- | --- | --- | --- | --- | --- | --- | --- | --- | --- | --- | --- |
| 2011 | 2,527 | 1,361 | 449 | 223 | 20 | 474 | 2,570 | 1,185 | 348 | 184 | 56 | 7 | 790 | -43 | -54 |
| 2012 | 2,618 | 1,120 | 495 | 228 | 0 | 775 | 2,546 | 969 | 290 | 538 | 0 | 0 | 749 | 72 | 63 |
| 2013 | 3,213 | 1,499 | 954 | 220 | 0 | 540 | 3,201 | 1,212 | 464 | 652 | 0 | 0 | 873 | 8 | 6 |
| 2014 | 3,711 | 1,511 | 856 | 232 | 0 | 1,172 | 3,859 | 1,680 | 341 | 679 | 0 | 0 | 1159 | -88 | -90 |
| 2015 | 2,712 | 1,505 | 464 | 109 | 0 | 634 | 3,195 | 1,523 | 297 | 498 | 0 | 0 | 877 | -483 | 16 |
Source: List of J1 club financial results for each year. 2011, 2012, 2013, 2014, 2015
Amount of money: million yen
| 年度 | Revenue | Advertising fee | Admission fee | Allocation | Upbringing | Sales | Other | cost | Personnel expenses | match | Home | Upbringing | woman | Sales | Sale | Profit | Net income |
| --- | --- | --- | --- | --- | --- | --- | --- | --- | --- | --- | --- | --- | --- | --- | --- | --- | --- |
| 2016 | 3,008 | 1,738 | 510 | 102 | 0 | 239 | 419 | 2,983 | 1,494 | 324 | 345 | 0 | 0 | 189 | 631 | 25 | 8 |
Source: List of J1 club financial results for each year. 2016
Amount of money: million yen
Asset
| 年度 | Total assets | Total debt | Net worth | Capital |
| --- | --- | --- | --- | --- |
| 2005 | 452 | 144 | 307 | 315 |
| 2006 | 314 | 206 | 108 | 315 |
| 2007 | 486 | 170 | 316 | 315 |
| 2008 | 543 | 291 | 251 | 315 |
| 2009 | 622 | 455 | 167 | 315 |
| 2010 | 724 | 554 | 169 | 315 |
| 2011 | 694 | 579 | 115 | 315 |
| 2012 | 722 | 543 | 179 | 315 |
| 2013 | 784 | 599 | 185 | 315 |
| 2014 | 811 | 716 | 95 | 315 |
| 2015 | 813 | 703 | 110 | 315 |
| 2016 | 1,300 | 1,181 | 119 | 315 |
Source: List of J1 club financial results for each year. 2005, 2006, 2007, 2008, 2009, 2010, 2011, 2012, 2013, 2014, 2015, 2016
Amount of money: million yen
footnote
注 釈
^ Looking at the average number of spectators per game, Cerezo increased about 1% while the J1 overall dropped about 3% from last season.[23]
^ One of them isWakayama Prefecture Kimitei TempleWhat was planned to be held in29 Typhoon No. 18An alternative event was held due to the effect of
Source
^ a b c d e f g h i j k l m n o p q r s t u v "Profile: Cerezo Osaka". Japan Professional Soccer League.

2022/5/16

Browse.
^ a b c "Company Information". Cerezo Osaka.

2014/2/21

Browse.
^ a b c d e f g "2020 Club Financial Results List". Japan Professional Soccer League.

2022/5/16

Browse.
^ "Cerezo Osaka". Sakai City (September 2022, 5).

2022/5/16

Browse.
^

Twelfth February 2010 issue.

^ "About a contract with Levi Kurpi" Cerezo Osaka official website, November 2011, 11
^ "Notice of change of director" Cerezo Osaka official website, November 2012, 8
^ "Levy Kurpi's contract renewal notice" Cerezo Osaka official website, November 2012, 11
^ "[C Osaka] Kakitani V bullet! The back number" 8 "has been decided! Opening for the first time in 14 years ". Sports report(November 2013, 3). originalArchived as of October 2013, 3.

^ Notice of transfer with fixed time limit Cerezo Osaka official website, November 2013, 3
^ Notification of subscription" Cerezo Osaka official website, November 2013, 4
^ "Simplicio player renewal notice" Cerezo Osaka official website, November 2013, 6
^ "[13/07/01] Shota Inoue Giravanz Notice of transfer to Kitakyushu with time limit". Cerezo Osaka (July 2013, 7).

2013/7/12

Browse.
^ "[13/07/12] Ryu Nagai Notice of extension of transfer period with Perth Glory FC deadline". Cerezo Osaka (July 2013, 7).

2013/7/12

Browse.
^ "Ryoji Harito announces transfer to Sagan Tosu with time limit" Cerezo Osaka official website, November 2013, 7
^ "Daisuke Takahashi retires from active duty" Cerezo Osaka official website, November 2013, 7
^ "Manchester United Moise Director Kagawa's comment" Cerezo Osaka official website, November 2013, 7
^ "Cerezo's big remodeling! Director Kurpi retires this season, replace all coaches" Sports Nippon, February 2013, 10
^ "About a contract with Levi Kurpi" Cerezo Osaka official website, November 2013, 11
^ For example,"A hot topic in the soccer industry. What is "Cele woman"?" Football Channel, November 2013, 11
^ "Cerezo Women's rapid increase, handsome effect? ​​XNUMX% increase in audience" Asahi Shimbun, September 2013, 12
^ "C Osaka Kakitani & Yamaguchi are popular and annual seat sales are strong next season" Sports Nippon, February 2013, 12
^ "AFC Champions League 2014 Participation Right Acquisition Notice" (Press Release), Cerezo Osaka, (December 2013, 12)

2016/2/22

Browse.

^ C Osaka won 5 times in a row, confirmed 3rd place or higher / C-God 33 Nikkan Sports, November 2017, 11 h
^ C Osaka to the first final with dramatic loss time bullet G Osaka did not advance to the final for four consecutive years Sports Nippon, February 2017, 10
^ Levan Cup winner is C Osaka! Sugimoto wins the final title, the first title in club history! Soccer King, November 2017, 11
^ Cerezo Osaka wins overtime, winning the first victory in 43 years, this season's two crowns ~ 2th Emperor's Cup All Japan Soccer Championship Final ~ Japan Football Association official website, January 2018, 1
^ a b Cerezo's main savior preserved by ACL "exiled", Australian journalist rages Read JCAST News, April 2018, 4, April 18, 2018
^ Cerezo scattered...Lacking the spot due to absence of main force, ACL 1st league defeat Sports Nippon, April 2018, 4, viewed April 17, 2018
^ "Director Akira Yoon Notice of Contract Expiration"(Japanese). Cerezo OSAKA Official Website | Cerezo OSAKA.

2020/2/26

Browse.
^ "C-Osaka announces new system Okubo, even if Sakamoto leaves, aiming for this season with solid reinforcement is within XNUMXrd place: Sports Hochi". web.archive.org (September 2022, 1).

2022/1/14

Browse.
^ "Kansai Sports Award, 2 groups, 7 individuals, Judo and Shibu Abe" (Press release), Kobe Shimbun NEXT, (March 2018, 1)

2018/1/16

Browse.

^ "About bid result of Maishima ball stadium and site related to ball stadium". Osaka City.

2013/6/13

Browse.
^ "Announcement of Top Partner Agreement with Capcom Co., Ltd." (Press Release), Official Website, (December 2022, 8)

2022/8/1

Browse.

^ a b c d e "2016 Season Club Slogan Team Policy" (Press Release), Cerezo Osaka, (December 2016, 1)

2016/1/17

Browse.

^ a b "Cerezo Osaka U-23 2016 Meiji Yasuda Mutual Life Insurance Company J3 league decision" (Press Release), Cerezo Osaka, (December 2015, 12)

2016/1/17

Browse.

^ "2016 Meiji Yasuda Mutual Life Insurance Co. J3 league U-23 team decided!" (Press Release), Japan Professional Soccer League, (January 2015, 12)

2016/1/17

Browse.

^ "U-23 is J3, the key to success? FC Tokyo, G Osaka, C Osaka each situation" (Press Release), Sports Navi, (February 2016, 2)

2016/6/6

Browse.

^ Akihiko Kawabata (June 2016, 4). "How did the "three-way three" U-23 team participate in J3 (#35)?". J.LEAGUE.jp.

2017/9/12

Browse.
^ "J will end the U23 league match, new rules for JXNUMX from next season". Nikkan Sports(November 2019, 7). originalArchived as of October 2019, 9.

2019/9/26

Browse.

^ "2016 Season Team Staff Announcement" (Press Release), Cerezo Osaka, (December 2016, 1)

2016/1/17

Browse.

^ C Osaka U23 Not enough, J3 entry 1st year I want to see emerging young people Sports Nippon (December 2016, 12) Retrieved on December 14, 2016.
^ Cerezo's 3 reporters talk about "2017 Summary & 2018 Outlook" vol.5 Maid! Cerezo-My Sele (January 2018, 1)
^ For example,"C Osaka Academy graduates Kakitani, Yamaguchi, and Ogihara contributed to the East Asian Cup victory... Behind-the-scenes selection from Japan revealed by club officials" SOCCER KING, November 2013, 7
^ [9/11 V-Varen Nagasaki match] Notice of visit to "Cerezo Osaka Support Navigator" Cerezo Osaka February 2017, 3
^ Cerezo Osaka Support Navigator Notice of Continuation of Activities This Season Cerezo Osaka February 2017, 3
^ Notice of Cerezo Osaka support navigator 2nd gen member decision Cerezo Osaka February 2018, 2
^ Notice of Cerezo Osaka support navigator 3nd gen member decision Cerezo Osaka February 2020, 2
^ 2021 About Cerezo Osaka Support Navigator Cerezo Osaka February 2021, 2
Related item
外部 リンク