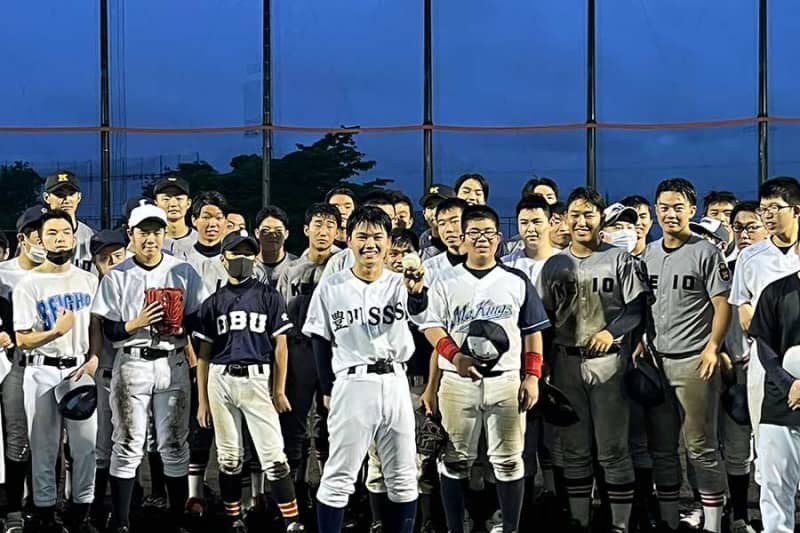 Photo Encouragement of Hayashi-kun (center) who participates in the Aichi tournament as a member of the coalition team [Photo: Editorial Department]
The stimulus given at the joint training session between a baseball player with intellectual disabilities and Keio High School baseball team members
 
If you write the contents roughly
On the other hand, Keio High School played against Salesio Gakuin at Thirty Four Sagamihara Stadium on the 13th. 
Members of the "Koshien Yume Project" and Keio High School Baseball Club hold a third joint practice session After three joint practice sessions, deep ... → Continue reading
 Full-Count
"I want to know" about baseball is here.Baseball specialty media "Full-Count".
---
Wikipedia related words
If there is no explanation, there is no corresponding item on Wikipedia.

Sagamihara City Sagamihara Stadium
Sagamihara City Sagamihara Stadium(Sagamihara Ritsu Sagamihara Kyujo) isKanagawaSagamihara CityChuo OfFuchinobe ParkSagamihara City inBaseball field[1]..The facility is owned by Sagamihara City andDesignated manager systemBased on, the town, Midori public corporation, Tokai physical education guidance group manages and operates[2]. The popular name isFuchinobe stadium.
Facility naming rightsBy (naming rights)20114/1Nicknamed fromThirty Four Sagamihara Stadium(For detailsLater).
History
19869/30ToKanagawa Prefectural Sagamihara StadiumOpened as.Since thenhigh school baseball-College baseballな どAmateur baseball,Baseball Challenge LeagueThe official game is being held.
Professional baseballThe first match of1987Open game held in MarchYokohama Ocean WhalesversusNankai HawksWar.In this match, the ocean from SagamiharaYuichi TakagiHit the stadium "Pro No. 1" home run.Since then, mainly the games of the second army have been held.
Before,Nippon Ham Fighters OfSecond armyIs aging and has no viewing facilitiesNippon-Ham Team Tamagawa GrandでEastern LeagueThe official game was held, but although it was close to the training camp, problems such as game management and deterioration of spectator service occurred, so1992The official game will be held at Sagamihara Stadium.1996Used as a base.But,1997, Nippon-HamChibaKamagaya cityToFighters StadiumWithdrew from Sagamihara due to the completion of the baseball team facilities, and after that, the Yokohama second army began to hold several official games a year.Other farm related1994ToJunior japanese championship-Yomiuri GiantsversusOrix Blue WaveThe war, in 1997Junior all-star gameWas held.
It is rare for the XNUMXst Army official game to be held, and the Yokohama BayStars19989/8Pair ofYakult SwallowsIt was the first time to host a battle.In addition, he has held several open games, but all of them are irregular.In addition to being hit by bad weather every time it is held,culvertThere are many cases in which the field is poorly drained due to poor condition (partially detailed in the episode). .
The owner will be transferred from Kanagawa Prefecture to Sagamihara City, and since 2008, the electric bulletin board has been repaired at the expense of the prefecture.20094/1Was taken over by Sagamihara CitySagamihara City Sagamihara StadiumThe name of the stadium was changed to. Since 2009 in the Eastern LeagueYokohama DeNA BayStars Second Army OfSemi-homeAs, about one game was held a month,Withdrew later .
Mainly in college baseballMetropolitan University Baseball Federation,Kanagawa University Baseball FederationIs playing an official game. From 2016Toto University Baseball FederationIt came to be used in the second division league game of.
2020ThanBaseball Challenge LeagueJoined (Route in BC League)Kanagawa Future DreamsIs holding official games, and in the first year, there are 7 games (XNUMX games), which is the largest number of games hosted by the team.Hiratsuka Stadium(Same number as) was held[3].
At this stadiumJet balloonsIs forbidden to fly.This is because it interferes with the progress of the game, but behind the outfield stand is a residential area.UniversityIt is also said to be a measure to prevent balloons from entering these areas because they are also located. .
Facility naming rights
2010In August, Sagamihara City became a public facility in the city to secure new financial resources and improve citizen services.Facility naming rightsDecided the policy to introduce (naming rights) and established "Sagamihara City Naming Rights Introduction Policy".Sagamihara City Cultural Center (Sagamihara City Cultural Center) as a target facility for selling naming rightsGreen Hall Sagamiono) And this stadium, the same year on condition that the annual amount of this stadium is 350 million yen or more and the contract period is 5 years or more11/29から20111/21We recruited sponsors.
There were applications from three companies during the open call for participants period, and as a result of examination by the selection committee, the cityGreen DistrictHeadquartered in Hashimoto, it has been decided to grant preferential negotiation rights to the construction and sale of houses and the real estate business.The company was soliciting for an annual amount of 611 million yen and a contract period of 5 years.After that, negotiations proceeded and3/24Concluded a formal contract with[4]..The contract period is the same year4/1から20163/31Up to 5 years (possible contract renewal).Nicknamed "Thirty Four Sagamihara StadiumWas decided.During the contract period, the facility name "Sagamihara City Sagamihara Stadium" under the Sagamihara City Ordinance will not be changed. Updated for another 2016 years on April 4, 1[5].
Main episode
As mentioned above, professional baseball (especially against Yokohama) held in Sagamihara is often haunted by rain.

20016/7Yokohama BayStars vs.Hiroshima Toyo CarpThe battle was hit by intermittent rain from the morning of the day, and the rain that began to fall before the evening became heavier just before the start of the game.Although the amount of rainfall was such that it could be forced, it was canceled due to poor ground conditions due to poor drainage.After that, the official game of the XNUMXst Army at Sagamihara Stadium2002It wasn't held last after two games were organized in.
20075/30, As the first official match of the 5st Army in XNUMX yearsSep-pa Exchange Battle・ The Yokohama-Hokkaido Nippon-Ham Fighters match was scheduled.Nippon Ham had some players who played in Sagamihara during the farm era, and although it was expected to be a "homecoming", it was a starting member.[6]Was announced, but the start of the game was postponed, and the game was canceled due to rain after 18:10. On May 2009, 5, the Interleague Play Yokohama vs. Nippon-Ham Fighter was held.

* These canceled games will not be transferred to Sagamihara.Yokohama StadiumIt was devoted to holding a preliminary day revival.

200410/2, A band from Sagamihara CityBetel oysterTriumphal concert was held[7].
20114/5,6 daysToYomiuri GiantsversusHanshin TigersPractice match[8][9](Audience match[10])But,同7 daysThe whole army practice was held in.this isGreat East Japan EarthquakeConsidering the power situation later, the power consumption is highTokyo DomeInstead, daylight is available during the day,Yomiuri Giants StadiumThe main stadium near the stadium was used as an alternative site..
2017, From late OctoberYokohama StadiumWas scheduled to be held inKanto Area University Baseball ChampionshipChanged to this stadium due to Yokohama DeNA's advance into the Japan Series (this tournament bears the title of "Yokohama Mayor's Cup Contest").
Equipment outline
Ground area: 14,600m2
Both wings: 95m, Mid-size: 120m
Capacity: 16,064 (infield / seats 8,064, outfield / lawn seats 8,000)
Scoreboard: Lightning type (LEDuse.The team name and referee name in the player name display sectiongreen, With the name of the player currently attackingDefense numberThe display isred, Others橙色display)

Until 2008, only the scoring part is an electric light bulb type, and the others are panel type.on the rightAmerican FootballThere is a score display part of the formula (score part / time display part = lightning type, team name display part = panel type), and in the pastKanto Student American Football FederationThere was a match in the lower league of.

Lighting equipment: 6 lighting towers
Attached facility Hibari Stadium (for boys' softball and softball)
Transportation
footnote
Related item
外部 リンク
Salesio Gakuin Junior and Senior High School
Salesio Gakuin Junior and Senior High School(Salesian school, school, school,British: Salesio gakuin Junior and Senior High School) IsKanagawa横 浜 市TsujiLocated inHigh school consistent educationI will provide aprivateBoysJunior high school-high school..High school does not recruit studentsComplete middle and high school integrated school[1].Catholic OfSalesian OrderIs the educational body.
Overview
1960TokyoMeguroHimonyaFounded in.Currently横 浜 市Located in.Founder of Salesian SocietyJohn BoscoBased on the philosophy based on "Shin," "Love," and "Ri," we are educating people who have an international perspective and who can practice service to society.
The number of students is about 180 in the first grade.The school site covers an area of ​​48,000 square meters.
History
Educational policy
Overview
Founder of Salesian SocietyJohn BoscoEducation is based on "Shin," "Love," and "Ri," and is known as a polite school in the world of junior high school exams.
slogan
The academy"Making a 25-year-old man"The title is "A person who can change to a point where he or she will be in a position to do some things in society, rather than seeking a completed form when graduating from high school."To that end, we are seeking the cooperation of families and parents, saying that "homes and schools are" educational communities "centered on children."
Curriculum
From the first grade of junior high school to the third grade of junior high schoolReligiousThere is a class to educate the history and ethics of Christianity. (You will not be forced to baptize.)
In addition, Shuzenji Seminar House andLake NojiriI stayed at a mountain lodge for several days and emphasized contact with nature.
Extracurricular activities
Student Organization / Committee
The student organization is divided into a junior high school student organization and a high school student organization.Both the president and vice president of both sessions are elected as students.
In addition to the Student Organization, there are five committees (General Affairs Committee, Library Committee, Broadcasting Committee, Physical Education Festival Executive Committee, Salegio Festival (Cultural Festival) Executive Committee).
Extracurricular activities
Although the number of clubs and clubs is small, there are many active clubs.In the athletic club, the junior high school tennis club has experienced consecutive championships in national tournament team competitions.In the Culture Department, the History Group of the Literature Department is located in Kanagawa Prefecture.Mt. OoyamaIn the study ofNational conventionThe championship and the physics team have achieved a technical award at Robocon.
Long time ago写真Department,CatequistaThere was a department, but it does not exist now (as of May 2022).however,ArtIn the department写真There is a group, and the activities of the Catholic Study Group are still ongoing on behalf of the Catekista Club. (As of May 2022).
Event
Cultural Festival
It is held around September under the name of "Salesio Festival" and is abbreviated as "Sales Festival" among students.It is held by the "Salesio Festival Executive Committee" organized by students.GuardianAlso holds events such as bazaars and yakitori restaurants.
The number of visitors is about 1 every year.
sports festival
There was no athletic festival until 2008, but the first athletic festival was held in 2009.This was only for students and was not disclosed to parents.
The second athletic festival in 2010 was open to parents.It is held by the "Sports Festival Executive Committee" organized by teachers and students.
Marathon event
Every year at the beginning of NovemberCountry of childrenThe marathon is held at, junior high school students make one lap (about 1km) around the circumference, and high school students make two laps (about 4km) around the circumference. In 2 and 8New CoronavirusWas forced to stop to prevent infection.
School excursion / forest school
There is a ski training camp at Nojiri Lake Forest School in the first grade of junior high school, a ski camp to Shiga Kogen in the second grade of junior high school, and an Italian study trip after graduation of the third grade of junior high school.
However, due to the high risk of terrorism at the airports used and the spread of the new coronavirus infection, only the 2019th generation in 57 was able to go on a study trip to Italy in recent years.In other generations, alternative training trips are planned at high school, and most of the time they go to Okinawa / Nagasaki.
Famous people
Businessman
Music/Entertainment
Academic
Player
Art / writer
Other
Yastake(Kajisak exclusive cameraman, MC industry, former entertainer)
Access
Footnotes and references
Related item
外部 リンク