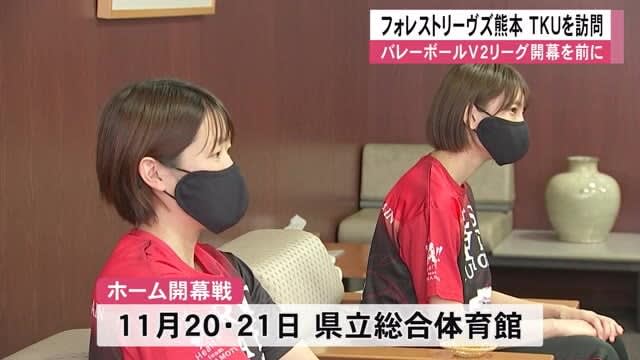 写真 
Forest Leaves Kumamoto is enthusiastic before the opening of the volleyball VXNUMX league [Kumamoto]
 
If you write the contents roughly
This is an account for "TV Kumamoto" (Fuji TV series) news. 
Forest Leaves Kumamoto coaches and players will visit TKU on the XNUMXth before the opening of the Volleyball VXNUMX League on October XNUMXth ... → Continue reading
 TV Kumamoto
"TV Kumamoto" (Fuji TV affiliate) news account. We will send you the latest news about Kumamoto.
---
Wikipedia related words
If there is no explanation, there is no corresponding item on Wikipedia.

Fuji TV series
Fuji TV seriesWhat is (Fuji TV Keiretsu)?Fuji TelevisionTheKey stationToBroadcaster Ofnetwork.
Overview
There are two networks in the Fuji TV series.one Fuji News Network(Fuji News Network, FNN), and the other isFuji network(Fuji Network System, FNS).The former isNEWSThe latter aims to supply programs, and the latter to supply other broadcast programs.
All member stations are TV-only, and become FNN / FNS affiliated stationsLatteThere is no station[1].
List of Fuji TV series
Terrestrial wave
Satellite broadcasting
footnote
Related item
外部 リンク
TV Kumamoto
TV Kumamoto Telecasting Co., Ltd.(TV Kumamoto,British: TV-Kumamoto Co., Ltd.) IsKumamotoTheBroadcast target areaAndTelevision broadcastingDoing business,Specific terrestrial backbone broadcaster.
Popular nameAndNickname TheHiraganaでTV KumamotoIt is said.The call sign isJOZH-DTV.1968 OctoberEstablished in, the next1969 May 4Opened in.Fuji TV seriesStation.
Broadcasting station overview
TV networkFuji Television Network, Inc OfFNN-FNSAlthough it is a series,Kumamoto citizen TV(KKT) Until the opening of the station, NTV (NNN)series,Kumamoto Asahi Broadcasting(KAB) TV Asahi (until the opening of the station)ANN) With seriesCross net stationIt was also.
Abbreviation OfTKUIs "TV Kumamoto UIt comes from the acronym "HF".AbbreviationUHFThe example with "U" is often seen in TV stations where the parent station of analog broadcasting was UHF, but most of the time, "U ○○ (U ○○ (UHBEtc.) "" ○ U ○ (SUTEtc.) ", so" ○○ U "is the only case.
As a station character, named after the station name (company name),1998 Than"Terekuma-kun"Was adopted,2019 May 4More named after the channel ID and company name"Kumahachi"Was changed to.
West Japan Newspaper-Sankei ShimbunIntimately withAsahi Shimbun-Yomiuri Shimbun-Mainichi NewspapersHas also invested.In addition to TKU at radio stationsKumamoto City FM(FM791) only.
Ryusuke Kawazu, one of the founders and owner of the bureau, is also listed as a major shareholder holding more than 1% of the issued shares.
2020 The catch phrase from January is"Rhythm! TKU".
"Eitaro's story] State of the relay corner "Kumamon and Katanne" (2017)
Head office/branch office
History
Network transition
Main transmission stations
master station

| Name | Identification signal | Channel | Antenna power |
| --- | --- | --- | --- |
| Kumamoto | JOZH-DTV | 42 ch | 1kW |
The transmitter isNECMade.Unlike the analog eraKumamoto BroadcastingWith all the private TV stations in the prefectureFM KumamotoThe facility is shared with (FM radio).
Relay station

| Name | Channel | Antenna power |
| --- | --- | --- |
| Humanity | 19 ch | 10W |
| Minamata | 27 ch | 100W |
| Amakusa Ushibuka | 27 ch | 0.3W |
| Aso | 42 ch | 1W |
| Aso north | 19 ch | 0.3W |
| Minami Aso | 23 ch | 3W |
| Higo Oguni | 18 ch | 1W |
| Seiwa | 35 ch | 1W |
| Soyo | 43 ch | 1W |
| Yabe | 20 ch | 1W |
| Mikawa | 42 ch | 0.3W |
| For grinding | 38 ch | 1W |
| Kikusui | 35 ch | 0.1W |
| Triangle | 33 ch | 0.3W |
| Yuura | 42 ch | 0.3W |
| Ashikita | 42 ch | 0.3W |
| Tatedayama | 27 ch | 0.3W |
| Namino | 42 ch | 1W |
| Kumamoto hemp | 18 ch | 0.3W |
| Tamana | 42 ch | 1W |
| Gyokuto | 42 ch | 0.3W |
| Ushibuka Oniki | 32 ch | 0.1W |
| Shinwa | 27 ch | 0.3W |
| Sakizu | 28 ch | 0.1W |
| Kawaura | 14 ch | 0.3W |
| On the water | 30 ch | 0.1W |
| Kahoku | 31 ch | 0.3W |
| Honto Kita | 37 ch | 0.3W |
| Hondo | 48 ch | 0.3W |
| Kuratake | 42 ch | 1W |
| Sumoto | 18 ch | 0.1W |
| Ariake Uezuura | 43 ch | 0.1W |
| Goshoura | 14 ch | 0.1W |
| Spring | 19 ch | 0.1W |
| Ogawa Kaito | 39 ch | 0.1W |
| Noriyoshi Matsushima | 43 ch | 0.1W |
Analog broadcasting
Of the analog relay stations as of July 2011, 7Small country relay station-South Aso Relay StationOnly VHF waves were transmitted.
Kumamoto (master station): 34 ch 10kW JOZH-TV Mt. Kinpusan The transmitter isToshibaMade
Minamata: 38ch 500W

At the beginning of the station, it was transmitted on 36ch,TV Nagasaki OfSasebo Relay StationIt was changed to 35ch two years later (2) due to interference with (1971ch).[14].

Small country[Annotation 2]: 8ch
Minamiaso: 4ch
Hitoyoshi: 42ch
etc.
Cable TV retransmission station
Nagasaki OfCable television Shimabara(Pumpkin TV) has been retransmitting the analog TV of TV Kumamoto, but with the end of analog broadcasting on July 2011, 7, the retransmission at the company has also ended.This means that TV Kumamoto is the only one of the four commercial broadcasters in Kumamoto Prefecture that has not been retransmitted by cable TV stations outside the prefecture (since the spring of 24).Kumamoto BroadcastingAlso).
Capital structure
The names of companies and organizations and the titles of individuals are as of the time. Source:[33][34][35][36][37]
Overview
Fuji Television Network, Inc-Nippon TV-TV AsahiIn the triple cross-net era ofWest Japan ShimbunAt the same ratio asYomiuri Shimbun(Mitsuo Mutai)WhenAsahi Shimbun(Hirooka Tomoo) Was a major individual shareholder.
2015/10/1
Past capital structure
Main program
announcer
Male
Female
Announcer who was enrolled in the past
Male
Female
Kinko Yabe
Kumiko Furusawa
Marino Asada (After studying abroad at MBA and working at Mitsui & Co., Ltd., currently a TV Asahi employee. USCPA US Certified Public Accountant and CIA Certified Internal Auditor)
Akiko Iwanaga (1997)[38] -)
Michiko Nakajima
Miyuki Wakamatsu
Eriko Hashimoto (1980-1985. After retirement, turned to free announcer)
Yoko Komon(After leaving the company, turned into a talent)
Aku Noda (1989)[38] -, After that, he is free to work at FM Kumamoto etc.)
Hiroko Yokota
Mitsuko Shirahama
Katsuta Marie
Naoko Kazato(1992[38] -)
Asako Tanaka (currently Nakano) (2006-December 2009. After leaving the companyHoriproBecome a free announcer
Karako Nishimura (1992)[38] -, Transferred to the Press Production Bureau)
Kanako Kimura(2010-2011, formerShizuoka broadcastingContract employee.After leaving the companyChiba Television BroadcastTransfer to)
Itoe Fujimoto(2001-2011. After entering the home, I started working as a free information magazine publisher)
Tomoko Nagayasu(2010-2012.Shikoku BroadcastingTransferred from.After leaving the companyNHK Yamaguchi Broadcasting StationBecome a contract caster)
Manami Igo (2001-March 2014)
In-house sponsored event
Information camera installation point
Related facilities
Feature
As one of the enhancements to locally produced programs1993 からKumamotoFromGreat manProduced a large-scale documentary drama "Local Great People Series" every year to discover and honorMay 11(Culture Day) It is broadcast on each FNS Kyushu station before and after.also,2013 OctoberFrom Monday to Friday, the morning information program "Eitaro's story"Eitaro no Katanne" has been running alone for 7 consecutive years with the highest audience rating, and "TKU Live News" is also in the same time zone. The audience rating of the company's programs is also favorable, such as taking the top average audience rating.
2004 For the first time at a broadcasting station in KumamotoInternational standardISO 14001Is getting.
The location of the head office is1991 Until it became Kumamoto City (currently Kita Ward, Kumamoto City) by transfer toAbandoned countyNorthern townIt is a broadcasting station that has a company building in a county (town or village), which is rare in Japan, and is the only private broadcasting station (excluding cable TV stations and community FM radio stations) headquartered in a county (town or village). Was a station[Annotation 9]..In addition, the only TV station in Kuma has not relocated its head office since its opening.
Supplemental
Unusual for a local stationKomeitoCM and political broadcast[Annotation 10]とSoka UniversityCM[Annotation 11]ExceptSoka GakkaiWe do not allow any of the related organizations to publish (air) commercials.This is the same Fuji TV series (FNN/FNS) Belongs toKansai TVAlmost the same asIs.For this reason, Soka Gakkai and related organizations are not accepting the purchase of external production production programs or the purchase of broadcast slots in which they participated in the planning and production.
Related person
footnote
注 釈
Source
References
30-year history compilation committee "TV Kumamoto 30-year history" TV Kumamoto, 2001.
外部 リンク