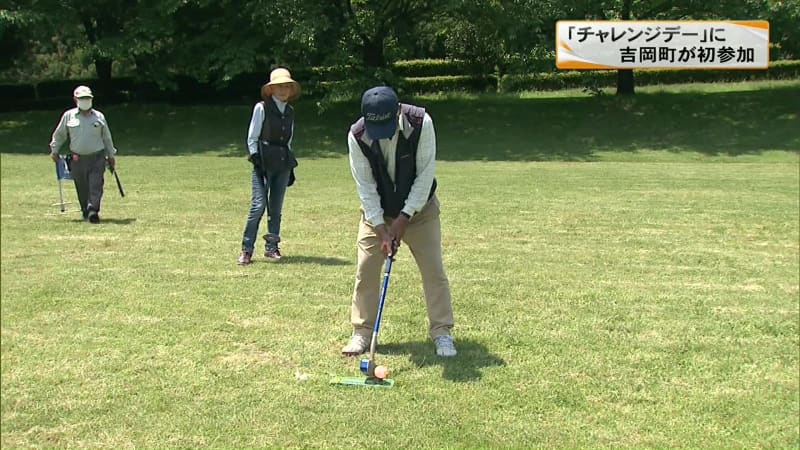 写真 
Gunma and Yoshioka Town participate in the resident participation event "Challenge Day" for the first time.
 
If you write the contents roughly
This year, Yoshioka Town, Ueno Village, and Minamimaki Village participated from the prefecture. 
"Challenge Day," a sports event in which local governments compete for the participation rate of residents who have been exercising for more than XNUMX minutes, is being held all over the country. → Continue reading
 Gunma TV
It is a prefectural broadcasting station in Gunma Prefecture.
We deliver news focusing on Gunma local topics.
---
Wikipedia related words
If there is no explanation, there is no corresponding item on Wikipedia.

Minamimaki
Minamimaki(Nothing Kumura, Minamimakimura)
Yoshioka Town
Yoshioka Town(Yoshiokamachi) isGunmaAlmost the center ofKita Gunma DistrictA town that belongs to.Gunma prefecture to the northShibukawa, Gunma prefecture to the eastMaebashiAdjacent to,HarunayamaSpread to the eastern foot ofTone RiverTown alongside.
Urban employment areaInMaebashi metropolitan area(Maebashi City)Bed townHas a strong personality.Commuting rate to Maebashi City is 44.2% (Heisei 27Census).
The population is increasing as a commuter town in Maebashi City, and in the Okubo district adjacent to Maebashi City.Shopping mallIs showing development such as construction.
Geography
Located in the center of Gunma prefecture,HarunayamaAt the eastern foot ofTone RiverThere is a town area in the area.The western half is a part of the foot of Mt. Haruna, which is a slope of 200-900m above sea level.On the other hand, the eastern half is 100-200m above sea level.StackingIt is a plateau consisting of.
History
1889/4/1 - Municipal systemBy enforcementNishi Gunma DistrictToKomose Village-Meiji villageIs born.
1896/April 4-Nishigunma-gun,KataokaMergedGunma-gunWas established and became Komayose-mura and Meiji-mura, Gunma-gun.
1949/10/1 -From Gunma-gunKita Gunma DistrictIs separated and becomes Komayose-mura and Meiji-mura, Kitagunma-gun.
1955/April 4-Kitagunma-gun, Komayose-mura and Meiji-mura merged, Kitagunma-gunYoshiokaWas launched.
1985/August 10- Kanetsu ExpresswayMaebashi IC~Yuzawa ICOpened.In the townKomayose PAOpened.
1991/April 4-Town system enforced,Yoshioka TownBecomes
1997/July 7-The first shopping center in townAEON Shopping Center(Maxvalu Megamart) opens.
October 2005, 4- Komayose SICStarted a social experiment.
October 2006, 10-After the social experiment,Komayose SICIs permanent.
2007/April 4-Held a mayoral election.Akira Ishiseki was elected the 22th mayor. (The parliament has 4 uncontested people.)
May 2007, 5-Mayor Ishiseki praises the promotion of the merger in an interview with "".
October 2007, 10- Gunma Bus(Aeon Takasaki-Yoshioka Town Office-Kitashimo-Shinto Onsen Line) opens.
2010/August 3- National Route 17Maebashi Shibukawa BypassShinbando Bridge opens.
October 2010, 3- Road Station Yoshioka OnsenIs open.
population
Administration / legislation
Mayor (after the town system came into effect)

First generation: Fujio Harasawa (1991-1995)
2nd generation: Kazuo Takano (1995-2003)
3rd generation: Toshihiko Kobayashi (2003-2007)
4th generation: Akira Ishiseki (2007-2019)
5th generation: Tokuichiro Shibasaki (inaugurated on April 2019, 4, 27st term)
2003/The merger with Maebashi City became an issue in the mayoral election, and Toshihiko Kobayashi, who insists on independence, defeated the incumbent Kazuo Takano and was elected.This makes it adjacentPingtung VillageWithMerger councilDisbanded.Mayor Akira Ishiseki, who received the post, indicated that the merger should be considered.
Prefectural assembly
Constituency: Kitagunma District constituency
Constant number: 1 people
Term: November 2019th, 5 (Reiwa 11st year)-November 2023th, 5 (5th year of Reiwa)
| Representative name | Parliamentary name | Remarks |
| --- | --- | --- |
| Yuko Obayashi | LDP | |
House of Representatives
| Constituency | Representative name | Party name | Number of wins | Remarks |
| --- | --- | --- | --- | --- |
| Gunma Prefecture 5st Ward(Yoshioka Town,Shibukawa(Former Shibukawa City,Komochi Village,Onoue Village,Ikaho TownArea),Tomioka,Annaka,Takasaki(OldGunma Town-Minoh Town-Haruna Town-Kurabuchi VillageArea),Kita Gunma District,Kanra-gun,Agatsuma) | Yuko Obuchi | LDP | 8 | Constituency |
License plate
Yoshioka TownLocal numberMaebashi number (Gunma Transport Bureau), But the Gunma number was assigned until November 2014, 11.
Gunma number allocation area (-November 2014, 11)
Maebashi number allocation area (November 2014, 11-)
Maebashi City, Yoshioka Town, Kitagunma District
Policemen
Fire
Shibukawa Wide Area Fire Station

Minami Branch Office (1201-3 Kaminoda, Yoshioka-cho, Kitagunma-gun)
Education
Junior high school
Yoshioka Municipal Yoshioka Junior High School
primary school
Yoshioka Municipal Komayori Elementary School
Yoshioka Municipal Meiji Elementary School
Kindergarten
Private Komayori Kindergarten
Transportation
Train
In the town areaRailway stationThere is no.The northern part of the townYagihara Station(Shibukawa City), in the southGunma Soja Station(Maebashi City) is the nearest station.The eastern part of the townJoetsu LineBut in the westJoetsu ShinkansenPasses.All Joetsu Shinkansen in the town areaHaruna tunnelIt has become.
Transit Bus
Gunma Bus: 3 systems

Ikaho / Misato Line (Takasaki~ Misato ~ Mizusawa ~ Ikaho)
MizusawaShuttle busLine (Ikaho Information Center-Machi no Eki-Mizusawa-Uehara / Toy Museum)
AEON MALL Takasaki-Yoshioka Town Office-Shinto Onsen-Shinto Village Office Line

Kanetsu traffic: 1 systems
Japan Central Bus: 2 systems

Haruto Line (Maebashi Station-Maebashi West School-Kaminoda)
Yoshioka Line (Maebashi Station-Komayori-Yoshioka Onsen-Uenoda)
道路
highway
General national road
Prefectural road
Sights/historic sites/tourist spots
Goddess Hall
Treasure Hall
Funao Waterfall
Road Station
Native celebrity
footnote
^

Illustrations Chapters of municipalities in Japan p69
外部 リンク