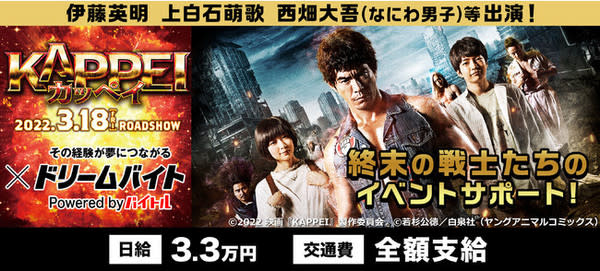 写真 
At the event of the movie "KAPPEI Kappei", we are looking for a part-time job to support the "warriors of the end"!
 
If you write the contents roughly
) ・ Only those who can approve that the part-time job will be distributed on the media such as the "Baitoru" website. 
DIP Corporation is a new project of "Dream Byte" with the concept of "that experience leads to dreams" ... → Continue reading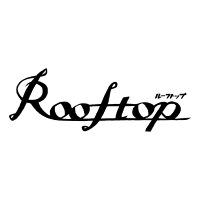 Rooftop
Web version of the free magazine "Rooftop" published by Livehouse LOFT. Pop culture information presented by the Rock Hall of Fame, where Southern All Stars, BOOWY, and Tatsuro Yamashita also stood on the stage. Artist exclusive interviews and various reviews.
---
Wikipedia related words
If there is no explanation, there is no corresponding item on Wikipedia.

| | |
| --- | --- |
| | This section describes the companies that operate the job information site.OtherDip For (DIP), see "DIP." |
DIP Corporation(dip) Is,Japan OfWeb serviceCompanies.
Overview
March 1997, 3, President and Representative DirectorHideki TomitaWas established. Based on the corporate philosophy of "We dip will improve society with dreams, ideas and passion", with the vision of "Labor force solution company", as a "comprehensive labor force trading company", we will work as a human resources service business. Providing AI / RPA business. Sales for the fiscal year ending February 2020 are 2 billion yen. In December 464, it was listed on the First Section of the Tokyo Stock Exchange.
Services
Part-time job,Dispatch, Employee recruiting servicesnurseWe develop human resources services such as temporary staffing (Human labor force) and AI / RPA services (Digital lebor force).
Baitoru (part-time job information site)
Bytle NEXT (Permanent / Contract Employee Job Information Site)
Baitoru PRO (Comprehensive recruiting media for professionals)
Working net(Comprehensive recruitment site for employees, dispatch, and part-time workers)
Cod roe in a nurse (nurse personnel introduction service)
Cobot (FAST RPA with the concept that "anyone, easily, and immediately" can be introduced)
AINOW (Japan's largest AI specialized media)
In the past, job listingsSearch engine"Job engine" is a similar job information search engine "indeedFrom 5 to 2004, which is more than five years ahead of Japan's expansion[1]It was unfolding.
History
1997/3 month - AichiNagoya cityEstablished in.
October 2000-Launch of "Hatarako Net", the first portal site in the job advertisement industry
December 2000-Launched "Hatarako Net" on Loppi and mobile terminals at 12 Lawson stores nationwide
2001/February --Started providing part-time job and contract information following dispatched labor
October 2002-"Baitoru" becomes independent from "Hatarako Net" and starts providing information as a new site
September 2003-"Baitoru" i-mode official website opened
October 2003-"Hatarako Net" i-mode official website opened
2004/5 month - Tokyo Stock ExchangeMothers marketInitial public offering
October 2004-"Job Engine" service started
2006/ --First TV commercial started
September 2009-Launched "Nurse cod roe", a career change information site specializing in nurses
2010-Equipped with "Video Information Service" and "Application Barometer"
May 2013-"Raise the Salary Campaign" started
July 2013-Officially certified by the Japan Anniversary Association as "Baitoru Day" on August 7th every year
December 2013-Market change to the First Section of the Tokyo Stock Exchange.
September 2014-Launch of "Hatarako index", a job information site for women
March 2015-"Nurse cod roe" is certified as the first phase of employment agency excellent business operator
May 2016 --Changed "Baitoru Employee" to "Baitoru NEXT"
June 2016 --Started operation of AI specialized media "AINOW"
December 2016-"Basic knowledge of modern terms" selection "Sacred place pilgrimage" won the top ten at the U-Can New Words and Popular Words Awards 12
March 2017-3th anniversary of establishment / Headquarters office moved to Roppongi Grand Tower
April 2017 --Started "AI.Accelerator", an AI / artificial intelligence venture support system
June 2017-Start of "LIMEX" business
November 2017 --Acquired shares of Jolly Good Co., Ltd. and made it an equity-method affiliate
November 2017 --Acquired shares of GAUSS Co., Ltd. and made it an equity-method affiliate
March 2018-"Work experience / workplace tour" released
July 2018-"i Scout" released
May 2018-Established US subsidiary DIP America, Inc.
August 2018 --Acquired shares of hachidori Co., Ltd. and made it an equity-method affiliate
September 2018-Selected as "Asia's 9 Best Under A Billion" published by Forbes magazine for 200 consecutive years
January 2019 --Acquired shares of Marketing-Robotics Co., Ltd. and made it an equity-method affiliate
March 2019 --Acquired shares of TRUNK Co., Ltd. and made it an equity-method affiliate
March 2019-Selected as a constituent of the "Nikkei Stock Average"
March 2019 --Starting new business in AI / RPA area
May 2019 --Acquired shares of appArray Co., Ltd. and made it an equity-method affiliate
August 2019-Selected as a constituent of the "JPX Nikkei Index 8" for the fourth consecutive year, and first selected as a constituent of the "JPX Nikkei Small and Medium-sized Stock Index"
September 2019 --FAST RPA "Cobot" is now available
October 2019-Renewed corporate logo
February 2020-Opened new office "Dijireba" in Shibuya, Tokyo
March 2020-Started financial support for fixed-term employees during holidays due to new coronavirus infection
May 2021 --Started "Baitoru PRO", a comprehensive recruiting media for professionals
Image character
Offer program
Now

Fuji TV
TV Tokyo
Past

Fuji TV
Source
Related item
外部 リンク
Website(British: website) IsWorld Wide Web Located on (WWW) (World Wide Web) and generally specificDomain nameUnder the multipleWeb pageA group of people.サイトSometimes called.A site built by an organization such as a company to introduce itself is called the official site of the organization.
Home PageSometimes called, but this usage is sometimes misused. Further, only the top page of a website may be called a home page.
History
the 1990s OfWWWWas in the era of experimental operation. In this era,WWWStatic, with comprehensive information about the organization, with reference to centralized ideas prior to the proposalcontentLaunched a website by and managed manuallyPortal siteThere were many cases of requesting registration from. However, since the 2000s robot typeSearch engineMoved to automatic website registration by the organization, acquired multiple domains and separated the site by service, etc.WWWIs the original thought ofDistributedI went to the system of.
United Kingdom Of(English edition)According to a survey by1995/In August, there were about 8 sites on the Internet.2006/As of November 11, the number of sites exceeded 2 million.[1].. In addition, in the real-time statistics of Internet Live Stats on the Internet statistics site,2014/On September 9, the number of sites in the world exceeded 16 billion. Be considered a WWW thinkerTim BernersleyIt is,Mini blog OftwitterI'm happy about this[2].
Website configuration example
hereMuseumThe official website of is illustrated.
Home Page, Main page, front page,Top PageOr index page: the "face" part of the website
Outline: Introduction of painters, entrance fees and opening hours, history of the museum, etc.
Facility information:FacilityA plan view ofTransportationAccessetc.
Event Information: Announcement of planned exhibitions, etc.
Work introduction:DatabaseMay have been published.
Electronic bulletin board: Sometimes people browse websites to write their impressions.
Links: Links to related external organizations.
Treating a website that has lost its admin
Websites created by individuals,BlogHowever, there is a problem of how to manage and save the person after his death. This problemSpace of interestIn "", I registered it as a keyword of "Internet Gravekeeper". Such as personal grave markers on the Internet,Memorial serviceIt's different from things like recollections. To the end, this is to leave the form in which an individual was active in life.
Currently in Japan, there is no commercialized service such as a service to directly maintain a personal website after the person died.Intractable diseaseDoctor of the website of an individual who died in a fighting illness, orvolunteerThere are some things that are managed and maintained while respecting the intentions of the deceased.
In this movement, for exampleHiroo YamagataAdministrators themselves, such as "wills" on the site ofsudden deathTherefore, activities to express the intention of the post-death policy on the site are also carried out.[3][4].Social networking services(SNS)mixiInformation is also exchanged within the Web wills community within the company[5].
Social interest in this issue is gradually increasing,Nihon Keizai ShimbunAlso featured in the evening edition of "A Homepage Forever" on April 2006, 4.[6].
However, before the administrator died, the administrator got tired of managing and operating his website, and[7]Cases that are left on the way, orserverThe management company changes the access method to the management system[Note 1]However, there are many cases where management became impossible because the administrator did not support switching.South KoreaThen in 2006Korea Ministry of Information and CommunicationAnd Korea Information Security Agency (KISA) (current:Korea Internet Agency) Protects sites that have not been updated for a long time in order to prevent misuse of abandoned sites.clean up[Note 2]Was done.
footnote
注 釈
Source
Related item