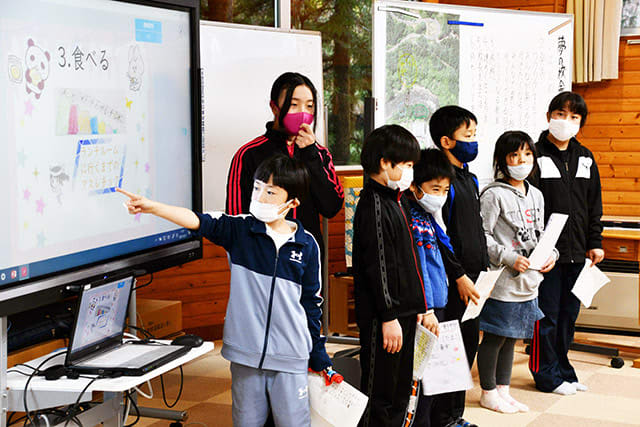 Photo Children presenting ideas about the school building of compulsory education school = Shokawa Elementary School, Shinbuchi, Shokawa-cho, Takayama City
Library "3 stories of big tree. Spiral staircase" In 25, children announced their ideas in elementary and junior high school. Takayama City
 
If you write the contents roughly
Together with Shokawa Junior High School (Sarumaru, Shokawa-cho, the same city), the elementary school will shift to a "compulsory education school" that consistently provides compulsory education for nine years in elementary and junior high school in 2025. 
At Shokawa Elementary School in Shinbuchi, Takayama City, Gifu Prefecture, which is about to move to a compulsory education school, preparations are underway for the construction of a new school building ... → Continue reading
 Gifu newspaper
---
Wikipedia related words
If there is no explanation, there is no corresponding item on Wikipedia.

Compulsory education school
RighteousnessSchool of affairs educationWhat is (Gimukyouikugakkou)?primary schoolFrom the courseJunior high schoolUp to the courseCompulsory educationTheConsistent Japanese school(Ichijo school).School education lawBy amendment of2016/Was newly established inschool educationSystem (Chapter 5-2).Elementary and junior high schoolIt can be said that it is a kind of, but it is a different existence.
Overview
Compulsory education schools "in addition to the current elementary and junior high schools, we will consistently provide compulsory education from elementary school to junior high school in order to promote the diversification and flexibility of the school education system."[1]It's a schoolPrimary EducationWhen,Secondary educationIt is a school that integrates a part of the 9-year course.
Both national, public and private installations are possible.It should be noted thatMunicipalityIt is,School education lawAlthough it is obligatory to establish a public elementary school and a public junior high school based on (Article 38)[2]..Article 49 applies mutatis mutandis to junior high schools), and the establishment of compulsory education schools also fulfills the obligation to establish (Article 38 proviso).
Differences from current elementary and junior high schools
Although the curriculum and school management cannot be unequivocally described because they can be flexibly operated by the founder, the main examples of the preceding elementary and junior high school are as follows.
Not only the learning curriculum, but also the customary system (regular examination, which has traditionally been a feature of education at the junior high school stage).Extracurricular activities, School rules, etc.) may have been accelerated to the elementary school stage.
Facility form
If the first half course for elementary school students and the second half course for junior high school students are integrated into elementary and junior high schools in the same school building, the current elementary and junior high schools will be integrated into elementary and junior high schools. It has been pointed out that it may be "school consolidation and associated reduction of education budget".[3].
Grade break
There is much debate about how to divide grades, and in the current education system where the 6-3-3 system and 6-6 system are the mainstream, some public schools will apply different grade divisions. Has some disagreements[4].
Enrollment selection
In the case of public schools, enrollment selection is not conducted.This is "in public compulsory educationeliteThis is because there are opinions that are concerned about becoming a school.[5]..However, it has been questioned whether it is possible to provide an original integrated education such as an "early curriculum" that makes use of flexible curriculum organization if enrollment selection is not performed.[6].
There are various issues in the discussion about elite education in public compulsory education and the educational culture of Japan, which has a strong side-by-side consciousness.[5].
merit and demerit
Regarding the system of integrated elementary and junior high school (compulsory education school), so farCentral Education Council,国会,Local council,Educator,educationcriticVarious discussions are being held among others.Benefits of introducing the system for the first time,DemeritThere are also promotion opinions and cautious opinions about the system itself.[7].
The following are the advantages and disadvantages of compulsory education schools, not general elementary and junior high schools.
Merit
Demerit
High school consistent education(Secondary schoolInconsistent with the system, etc.).Elementary school, junior high school, secondary school, and compulsory school will coexist in one municipality.[4].
The integrated facility is accompanied by school consolidation and abolition.The predecessor elementary and junior high schools will be closed and integrated into compulsory education schools.Along with this, the school district may become wider and the commuting distance may become longer.ShinagawaThen, there is an example in which 18 elementary schools and junior high schools were consolidated and abolished to become 6 elementary and junior high schools (actually 12 closed schools).[8].
The name "compulsory education school" is generally unfamiliar.Also, if the official name is "school" only (not including the word "school"), other commonly recognized policy facilities (not including the word "school").welfare facility,Child independence support facilityEtc.) and it becomes difficult to distinguish.
Footnotes and references
Related item