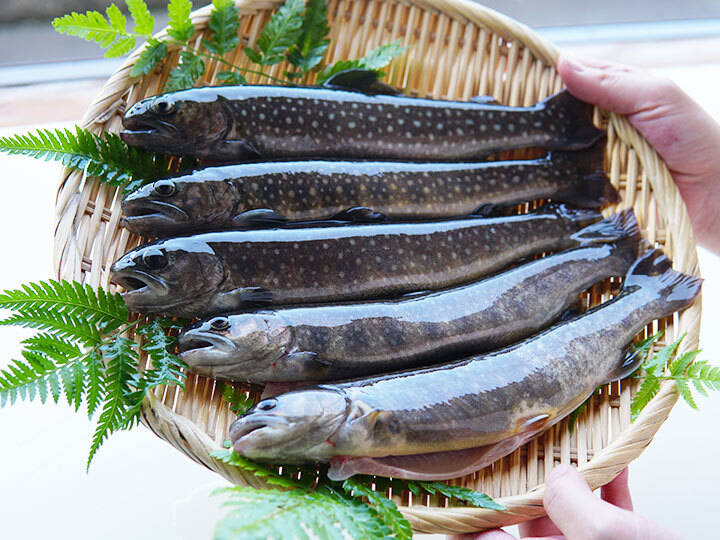 [Champion of the mountain stream] Char 5 tails 100-120g Salt-grilled size: Fish from Ishikawa Prefecture | Eating choku |
About delivery to an address different from yours
On the order form, please select [○Gifts/Gifts] for ① "Delivery Address" and enter information in both ②【Address of Delivery Address】 and 【Your Address】. *We do not include documents that show the amount, so please do not worry if you are using it as a gift.
A set of 23 rock fish that you can easily enjoy salt-grilled char at home.The size of the fish is around XNUMXcm and it is filling.You can easily enjoy fragrant salt-grilled rock fish just by adding salt and grilling on a grill or frying pan.
It is also popular as a gift for midsummer gifts, so it is recommended 🎉 (can be used for Noshi)
*Introduced on 2020/10/13 NHK Good Morning Japan🌸
===================
❖ The skin was crispy and the meat was fluffy and delicious!
❖ I never thought I could grill char at home!
❖ It was easy if you read the manual!
===================
We are happy to hear that.
Firm Fukase char nurtured by heavy snowfall
It is a rock fish (char) raised with love from eggs at our own fish farm.
Over the years, we have researched and researched to perfect the quality.
The site is located in the mountainous area of ​​Hokuriku Ishikawa Prefecture, where snowfall reaches 2m or more every year in winter and the water is cold even in summer.
Rock fish raised in the pure natural water of the mountains has little of the unique odor and peculiarities of river fish, and is very easy to eat.
When you bite into it, you can enjoy the fragrant and fluffy body.
Safe for beginners!easy to eat
1.Each char is carefully gutted one by one by a craftsman, so there is no need for troublesome preparation and you can cook immediately after thawing.
XNUMX.Since it is individually wrapped, you can use as much as you want when you want to use it.
XNUMX.A cooking instruction manual with photos is included, so even first-timers can cook with confidence.
Handling Precautions
・For heating.Please enjoy after baking well.
・Please refrain from eating raw food.
・Because it is processed by internal organs, there may be some blood (glue) bleeding, but there is no problem with quality.Please wash it off before use.
・As this is a raw product, please consume as soon as possible after defrosting.
・Please refrain from using if you have an anisakis allergy.
Product Info
Contents Char (Frozen/Farmed) 5 fish (100g~120g grade salt-grilled size)
Origin: Ishikawa Prefecture (Fukase, Hakusan City, Ishikawa Prefecture)
Delivery method: Yamato Transport (cool frozen delivery)
Expiration date: Approximately 2 months when stored frozen 
Storage method Freeze storage below -15℃
Producer Hakusando Co., Ltd. (Fish Farm "Hakusando")
View more
→Look at the products in detail with the "eat chok", where the vegetables and ingredients are delivered directly from the producer