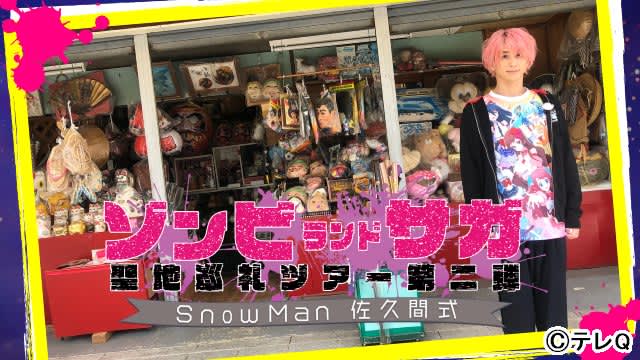 写真 
The second installment of Snow Man and Daisuke Sakuma's crown program! Visit the "Zombie Land Saga" sanctuary
 
If you write the contents roughly
Kaede Hondo, a voice actor who plays the role of Sakura Minamoto in the anime, is in charge of the narration. 
Tele Q (TVQ Kyushu Broadcasting) announced on December 12th, "Snow Man Sakuma-style Zombie Land Saga Sanctuary Tour No. 29 ... → Continue reading
 TV guide
The latest entertainment information media published by Japan's first TV information magazine "TV Guide"
---
Wikipedia related words
If there is no explanation, there is no corresponding item on Wikipedia.

Kaede Hondo
Kaede Hondo(Honestly,1996/May 3[4] -) isJapan OfFemaleVoice actor.I'm EnterpriseAffiliation[5].AichiNagoya cityBackground[6].
history
When I was in the third grade of elementary school, an old woman who passed me while studying outside the school said, "You look good in makeup." When Honda, who didn't know the meaning of "makeup looks good", looked it up, he found a model and an actress, so he thought "I should be a model and an actress!" And auditioned in various places. But I couldn't pass[3]..I almost gave up on the path to performing arts activities, but it became an opportunity for me to have a desire to stand in front of people and get involved in expression.[3], In high schoolTheater departmentBelonged to[7]..But short statureTong Yan, For reasons such as voicenurseAnd couldn't play the role of mother[3][7], Another member of the drama club pointed out that "(Hondo's acting) is good for listening with your eyes closed, but when you look at it properly, it doesn't move at all."[3], A girl of the same age asked me to go to the voice actor office together[3]I chose the voice actor path in, when I was in the second year of high schoolJapan Narration Acting InstituteI entered the Nagoya school.For synchronizationMaria Naganawa[8],Natsu Yorita[9]There is.
I couldn't pass the audition I belonged to at the office by the time I graduated from high school, so after graduating from high school I went on to college Encouraged[3]..Then, I passed the character with Atsuta Stadium as a motif in the audition of "Project 758", a project in which Nagoya City and Nagoya companies and universities promoted Nagoya (the audition was sponsored by the Nagoya school of the training school).[3]..Dropped out of college2015/4ToI'm EnterpriseBecame a member of[3][7].
In 2015Youth x machine gun』Debuted as a voice actor.The line was just one word, "It was cool," but he said that his head became blank for the first time in his life due to the tension of entering a vacant microphone while keeping it out of the way of other voice actors.When the dubbed work was broadcast, I was frustrated by my poor acting and vowed to grow in the future.In the same year, in the first year of his debut, "The secret of secretsIn the role of Yotsuba Kokoro, he took the lead role, and in addition,Mysterious Somera-chan』But played the main character Kukuru Nonomoto. In the dubbing of "Kokotama", I was surrounded by big veterans and learned how to play a little over-the-top, which is peculiar to children's animation.Up to the first three episodes, my voice sounded sad due to my lack of power, but after that it turned into a bright voice. There are many voice actors of the same age in the dubbing of "Somera-chan", and he recalls that if he continued to talk quickly in 3 minutes, he had the opposite impression of "Kokotama".[3].
2019, 13thVoice actor awardWon the New Actress Award[10].
person
My favorite is TabascoArctic ramenSuch spicy things[2],Pet dogLily, play[7].. Have a younger brother[11]..I'm not bad at cooking, but I have the idea that it's better to eat delicious food and get nutrition than to spend time making it yourself.[3]..I like bright colors and unique clothes[2].
I wasn't very familiar with anime, but since I was in elementary schoolNarutoI liked it, and I often imitated my voice.[3]. Also,赤ちゃん OfBirthI am proud that I am good at playing, and I said in an interview in October 2015 that I want to be said to be "Kaede Hondo when it comes to babies".[7].. In syncFujiwara NatsumiGaori[12],very closeVoice actorAsThe secret of secrets』Megumi BanAlso a senior at Hondo's officeAi OzawaとMaria NaganawaNamed[7]..I also like to sing, especially I like to sing with "characters", and even when recording character songs, I sometimes miss the pitch and rhythm, but I have a close meeting with the director and sing with the feelings of the character carefully In most cases, Honda himself sings more happily by valuing the character's feelings.[3].
I have realized that I wrote in my own "to-do list" once every one to two months with two friends from the training school days.In the past, he rented bouldering and hakama and paraded around the city of Asakusa, and in the 2 interview, he plans to go to limestone caves and hot springs, skydiving, scuba diving, and bungee jumping.[3].
He says he has a "positive and greedy personality".[2], Co-starring on the radio, etc.Tianjin OfSeitarou MukaiDescribed Hondo as "a hard worker"[13], Of the same voice actorEmiri IwaiHe says he learns from his strong beliefs, compassion, and courteous response.[14].
Appearance
TaiziIs the main character.
Television Animation
2015/

2016/

2017/

2018/

2019/

2020/

2021/

2022/
Theater animation
2010 era

2020 era
OVA
2010 era

2020 era
Web anime
2010 era

2020 era
Game
2015/

2016/

2017/

2018/

2019/

2020/

2021/

2022/

Undecided
Drama CD
2015/

2016/

2017/

2018/

2019/

2020/

2021/
Digital comic
Manga animeWork(2020, Hina Higashi)
I'm sorry for my younger brothers (2021, XNUMX)Narita thread) --Volume 4 Purchase Bonus URL Page,Separate MargaretJuly 2021 Appendix URL Card[191]
A stupid angel dances with the devil (2021, XNUMX)Amane Lily[192])
Audio drama
Narration
radio
Radio cd
Reading aloud
Video program
Video products
TV program
Other contents
Discography
Character song
Release date
Product Name
song
Song
Remarks
2015/

May 11

Prism MAX ~ Heisei Ishin Full HD Remastered Version ~
Somera Nonomoto (Akika Nakatani), Kukuru Nonomoto (Kaede Hondo), Tendo Shizuku (Rika Momoka), Ai Matsushima (Maria Naganawa)
"Prism MAX-Heisei Ishin Full HD Remastered Edition-"
Television Animation"Mysterious Somera-chan"Opening theme
"Somerairo Days"
Songs related to the TV anime "Mysterious Somera-chan"
2016/
May 2
Mysterious Somera-san tiger
Kukuru Nonomoto (Kaede Hondo)
"Twin flower"
Songs related to the TV anime "Mysterious Somera-chan"
May 6
I love my heart!
Yotsuba Kokoro (Kaede Hondo), Rakitama (Megumi Ban)
"I love my heart!"
Television Animation"The secret of secrets"Ending theme
May 8
IDOL CONNECT -UNIT DISC-
Nice to meet you, I love you!
Memoria[Member 1]
"Flower Tune"
"Candy Star ☆ Mi"
Songs related to the game "Idol Connect -AsteriskLive-"
IDOL CONNECT -Solo Disc-
Feelings of girl
Chino Haneda (Kaede Hondo)
"Pastel Graph"
May 10
Fantas / HIP Girlfriends!
Godless Nozomi (Lynn), Sayaka Miyata (M ・ A ・ O), Aoba Kaze (Kaede Hondo), Toyoguchi Non (Saori Onishi)
"Fantas/HIP Girlfriends!"
Television Animation"Race girl!!!!!!!!"Ending theme
Aoba Kazane (Kaede Hondo)
"Touch Your Heart"
"Fantas/HIP Girlfriends!"
Related song of TV anime "Kyotetsu!!!!!!!!"
Handa-kun original soundtrack
Miyoko Kaneshiro (Kaede Hondo),Eraser Boys[Member 2]
"Erase Servoise"
Television Animation"Handa-kun"Insert song
May 11
Girlish Number/Bloom
Girlish number[Member 3]
"Bloom"
Television Animation"Girlish number"Opening theme
May 11
Deep-Connect
f * f[Member 4]
"Deep-Connect"
"Decision"
"Desire Link"
game"Battle girl high school] Related songs
May 12
Girlish Number/Short Now, Dreaming Maiden
Girlish number[Member 3]
"I'm short and dream now, maiden"
The ending theme for the TV anime "Girlish Number"
"Rainbow Sunrise"
TV anime "Girlish Number" insert song

May 12

Hikari☆High tension/SSS
"Take☆High tension"
May 12
On the way to tomorrow
Girlish number[Member 3]+ Sakuragaoka Nanami (Amina Sato)
"On the way to tomorrow"
Karasuma Chitose(Senbonsai), Yae Kugayama (Kaede Hondo)
"Check a"
Web radio "" Girlish Number "CUTE GIRLS RADIO" theme song
2017/
May 2
IDOL CONNECT -Memorial Disc- If you laugh once, I sing a thousand times.
Chino Haneda (Kaede Hondo)
"Colorful gift"
Songs related to the game "Idol Connect -AsteriskLive-"
May 2
Yumeji Labyrinth
Labyrinths[Member 5]
"Yumeji Labyrinth"
Television Animation"Urara Labyrinth"Opening theme
"Uraraka weather quartet"
Songs related to the TV anime "Urara Meirocho"
Natsune-Fushigi Nairo- / Cat-Cat Romance
f * f[Member 4]
"Cat-Cat Romance"
game"Battle girl high school] Related songs
May 3
Ajin-chan wants to talk 1 bonus CD: character song collection
Hikari Kotori (Kaede Hondo)
"I'm a new generation vampire!"
Television Animation"Ajin wants to talk] Related songs
May 3
Girlish Number / Character Song Mini Album ~ Growing! ~
Yae Kugayama (Kaede Hondo)
"Hawawa spring"
TV anime "Girlish Number" related songs
Girlish number[Member 3]+ Nanami Sakuragaoka (Amina Sato)
"Growing!"
May 4
TV Anime "Urara Meirocho" Character Song 1
Navy blue(Kaede Hondo)
"Fifteen months"
Songs related to the TV anime "Urara Meirocho"
May 4
Kokotama Happy ~ Paradise! / Utaou ♪ This is a town!
Yotsuba Kokoro (Kaede Hondo) With Kokotama 9+ lychee[Member 6]
"Utaou ♪ This is a town!"
Ending theme for the TV anime "Kamisama Minarai Secret Kokotama"
May 7
Urara Meirocho Character Song Mini Album
Navy blue(Kaede Hondo)
"I'm happy that we met"
Songs related to the TV anime "Urara Meirocho"
Labyrinths[Member 5]
"Pounding Labyrinth"
May 7
Hoshino Kizuna
Kamikigamine Jogakuen Hoshimori Class[Member 7]
"Hoshino Kizuna"
TV anime "Battle Girl High School" opening theme
f * f[Member 4]
"Melody Ring"
TV anime "Battle Girl High School" ending theme
"Gravity"
TV anime "Battle Girl High School" related songs
May 8
IDOL CONNECT asterisk live! Star * Trine
Sorako Harumiya (Chisato Mori), Yui Sezuki (Aisaka Yuka), Chino Haneda (Kaede Hondo), Rina Hinomae (Rumi Okubo), Hikari Takabana (Noriko Shibasaki), Old-fashioned maple (Omori Higasa), Miyu Yuki (Kimura Chisaki), Tsukasa Izumi (Chinami Hashimoto), Hachiyou Sakagami (Rina Hidaka)
"Star * Trine"
Songs related to the game "Idol Connect -AsteriskLive-"
May 10
LUSH STAR ☆
LUSH STAR ☆[Member 8]
"LUSH STAR ☆"
"What I named love"
"Onsen daughter] Related songs
May 11
Good Luck Lilac
GATALIS[Member 9]
"Good Luck Lilac"
Television Animation"Anime freaky"Ending theme
"Love G / A / T / A / L / I / S!"
TV anime "Anime-Gatari" related songs
Battle Girl High School BD/DVD Vol.1 Special CD
Glittering flower sound (Kaede Hondo)
"Hoshino Kizuna"
"Deep-Connect"
"Decision"
"Desire Link"
"Cat-Cat Romance"
"Melody Ring"
"Gravity"
"Blue Wind"
TV anime "Battle Girl High School" related songs
2018/
May 1
Save you Save me
Kanami Eto (Kaede Hondo), Himekazu Jujo (Saori Onishi), Mai Yanase (Aki Waki), Sayaka Itomi (Kino Hina), Kaoru Masuko (Matsuda Risa), Furuhazo Ellen (Suzuki Eri)
"Save you Save me"
Television Animation"Sword maiden"Opening theme
Kanami Eto (Kaede Hondo), Himekazu Jujo (Saori Onishi)
"Double Kizuna"
game"Swordsman Miko] Theme song
Memorial of heart
Kanami Eto (Kaede Hondo), Himekazu Jujo (Saori Onishi), Mai Yanase (Azumi Waki), Sayaka Itomi (Hina Kino), Kaoru Masuko (Risae Matsuda), Ellen Konami (Eri Suzuki)
"Memoria of the Mind"
The ending theme for the TV anime "Swordsman Miko"
May 2
Miko no Uta ~ Ichi ~
Kanami Eto (Kaede Hondo)
"Sword & Wing"
"Save you Save me"
"Memoria of the Mind"
"Double Kizuna"
TV anime "Swordsman Miko" related songs
May 3
Figure Heads Original Soundtrack[Note 1]
Kagura (Kaede Hondo), Miyabi (Marika Takano)
"Tateyo! Wave breeze !!"
Game "Figure Heads" related songs
May 4
Swordsman Miko BD・DVD Vol.1 bonus CD
Kanami Eto (Kaede Hondo), Himekazu Jujo (Saori Onishi)
"Shining Double Star"
TV anime "Swordsman Miko" related songs
Around here! ~ Very good version ~ / Let's go!Here in the world !!
Yotsuba Kokoro (Kaede Hondo), Rakitama (Megumi Han)
"Kokoro Kotama! ~ Very good version ~"
Opening theme for the TV anime "Kamisama Minarai Secret Kokotama"
May 5
Evolutionary Colors
Kanami Eto (Kaede Hondo), Himekazu Jujo (Saori Onishi), Mai Yanase (Azumi Waki), Sayaka Itomi (Hina Kino), Kaoru Masuko (Risae Matsuda), Ellen Konami (Eri Suzuki)
"Evolutionary Colors"
Opening theme for the TV anime "Swordsman Miko"
Kanami Eto (Kaede Hondo), Himekazu Jujo (Saori Onishi)
"Whether this body is dead now"
Insert song for the TV anime "Swordsman Miko"
Future Epilogue
Kanami Eto (Kaede Hondo), Himekazu Jujo (Saori Onishi), Mai Yanase (Azumi Waki), Sayaka Itomi (Hina Kino), Kaoru Masuko (Risae Matsuda), Ellen Konami (Eri Suzuki)
"Future Epilogue"
The ending theme for the TV anime "Swordsman Miko"
Kanami Eto (Kaede Hondo)
"Requiem for the Night"
May 5
Memories
Comic Girls[Member 10]
"Memories"
Television Animation"Comic Girls"Opening theme
"I can't see the tears"
The ending theme for the TV anime "Comic Girls"
May 6
Wizard and the Black Cat with 5th Anniversary Original Soundtrack
Serrata (Kaede Hondo),Lily(Yumori Hanamoru), Lirum (Hitomi Owada), Excelia (Tange Sakura), Gatlin (Maya Yoshioka), Islay (Toshiro Hisako)
"Kirari ☆ ω ★ Nyan RISE!"
game"Quiz RPG Wizard and Black Cat Wiz] Related songs
May 6
Hina Matsuri Music Collection-Is Sake Tears or Sighs?
Hitomi Mishima (Kaede Hondo), Utako (Yoko Hikasa)
"Twilight Little Song"
Television Animation"Hina Festival] Related songs
May 7
Danger in my school road
Chio Mitani (Naomi Ozora), Mana Nonomura (Chiaki Omigawa), Yuki Hosokawa (Kaede Hondo)
"Danger in my school road"
Television Animation"Chio's school route"Opening theme
Kamisama Minarai Secret Kokotama Best Selection ♪
Yotsuba Kokoro (Kaede Hondo), Nozomi Sakurai (Ishihara Kaori)
"Kokoro to Nozomi"
Insert song for the TV anime "Kamisama Minarai Secret Kokotama"
May 8
Alternative Girls Character Song Collection
Noah Asahina (Miki Ito), Sayuri Kira (Kaede Hondo), Silvia-Richter (Mai Fuchigami), Sakurako Mano (Rumi Okubo), Miyaka Yuki (Ayana Taketatsu)
"Link"
game"Alternative Girls] Related songs
May 8
Doll's Destiny
DOLLS[Member 11]
"Doll's Destiny"
"Mark for victory"
"Eternal memory"
game"Project Tokyo Dolls] Related songs
May 9
Comic Girls DVD/DVD Vol. 4 Special CD
Komu Koizuka (Kaede Hondo)
"Memories"
"I can't see the tears"
Related song for TV anime "Comic Girls"
May 11
Runner's exhilarating! / Kagayake School Life
Sayuri Kira (Kaede Hondo)
"Kagayake School Life"
Songs related to the game "Alternative Girls"
May 11
Adabana Necromancy
Franchouchou[Member 12]
"Adabana Necromancy"
Television Animation"Zombie Land Saga"Opening theme
To light
"To light"
TV anime "Zombie Land Saga" ending theme
May 12
Zombie Land Saga BD Vol. 1 bonus CD[221]
Green face[Member 13]
"Welcome to Saga"
Insert song for TV anime "Zombie Land Saga"
Green face[Member 12]
"DEAD or RAP !!!"
Franchouchou[Member 12]
"Awakening RETURNER"
"Atsukunare"
2019/
May 2
Zombie Land Saga BD Vol. 2 bonus CD
Franchouchou[Member 12]
"Drive-in bird"
"To my Dearest"
"Special Attack DANCE ~ DAWN OF THE BAD ~"
Insert song for TV anime "Zombie Land Saga"
May 4
From Tomorrow in the Colored World BD Volume 3 Bonus CD
Tsukishiro Amber (Kaede Hondo)
"The best magic"
Television Animation"From the tomorrow of the colored world] Related songs
May 4
Zombie Land Saga BD Vol. 3 bonus CD
Franchouchou[Member 12]
"Yomigaere"
"Flap FLAG!"
"Awakening RETURNER (Electric Returner)"
Insert song for TV anime "Zombie Land Saga"
May 5
B Rappers theme[Note 1]
B rappers crew[Member 14]
"B Rappers Theme"
Television Animation"B Rappers Street"Ending theme
May 5
Minitoji BD Bonus CD
Kanami Eto (Kaede Hondo), Miwa Asakura (Akaneya Hikai summer)
"This program will be provided by young civil servants."
Television Animation"Mini binding] Theme song
May 10
Nissin Curry Messi Zombie Land Saga Special BOX Set Bonus CD
Franchouchou[Member 12]
"Shining (curry meshi ver.)"
TV anime "Zombie Land Saga" related songs
May 11
Song of courage
Wakaba Nogi (Ayaka Ohashi), Hinata Uesato (Marika Kouno), Yuna Takashima (Terui Haruka), Chikage Gun (Suzuki Aina), Koji Doi (Kaede Hondo), An Iyoshima (Rena Kondo)
"Kibonotsubomi"
"The courageous baton"
game"Yuna Yuki is a hero] Related songs
May 11
UP-DATE x PLEASE !!! ver 1.7.8
Ichika Saotome (Uchiyama Yumi), Naoki Saotome (Kaede Hondo), Saotome Yakumo (Maki Kawase)
"UP-DATE x PLEASE!!! ver 1.7.8"
Television Animation"Battle x love"Ending theme
Ichika Saotome (Yumi Uchiyama), Futaba Saotome (Yumi Uchiyama)Yumi Hara), Misa Saotome (Fresh watercolor incense), Shino Saotome (Rikako Aida), Saotome Goya (Ai Kakuma), Rokukai Saotome (Rina Hidaka), Natsuki Saotome (Kaede Hondo), Saotome Yakumo (Maki Kawase), Saotome Kuri Ruri (Koiwai Kotori)
"UP-DATE x PLEASE!!!!!!!!!"
TV anime "War x Love" related songs
Natsuki Saotome (Kaede Hondo)
"CROSSING SWORDS!"
UP-DATE × PLEASE!!! Full Volume Purchase Bonus CD
Ichika Saotome (Yumi Uchiyama), Futaba Saotome (Yumi Hara), Misa Saotome (Ayaka Shimizu), Shino Saotome (Rikako Aida), Goya Saotome (Ai Kakuma), Rina Hidaka , Natsuki Saotome (Kaede Hondo), Yakumo Saotome (Maki Kawase), Kuri Saotome (Kotori Koiwai), Takuma Akutsu (Takuma Akutsu)Hiroya Hirose)
"UP-DATE x PLEASE!!!!!!!!! Ver. X"
May 11
Zombie Land Saga Franchouchou The Best
Franchouchou[Member 12]
"Adabana Necromancy (Album ver.)"
"Saga Incident"
"sparkling"
TV anime "Zombie Land Saga" related songs
Sakura Minamoto (Kaede Hondo)
"Oath! ALIVE Sensation"
2020/
May 1
Clover wish
ChamJam[Member 15]
"Clover wish"
Television Animation"I'll die if I recommend you to go to the Budokan."Opening theme
May 2
ChamJam all the time
"All the time ChamJam"
"Hotto ♡ Summer Holiday"
"Fall in Love"
Insert song for the TV anime "If My Favorite Pop Idol"
May 3
DOLLS Songs & Sounds 01[222]
DOLLS[Member 11]
"Kotonoha Symphony"
"The Harmony of the Beginning"
Game "Project Tokyo Dolls" related songs
DOLLS[Member 16]
"Takaze Brave motion!!"
"Hikari"
"It's OK!!"
"Smile Again"
"Christmas March"
DOLLS[Member 17]
"Kotonoha Symphony (Live Ver.)"
May 4
The original soundtrack that will die if you go to the Budokan
ChamJam[Member 15]
"If we go to the Budokan"
Insert song for the TV anime "If My Favorite Pop Idol"
May 5
Image album feat.
Meguro River[Member 18]
"You are a natural color'
Television Animation"Work] Related songs
Higashi Mihina (Kaede Hondo)
May 6
Because of love / from that (Despair Girls 2020)
Kenji OtsukiとMeguro River[Member 18]
"Because of love"
May 9
Zombie Land Saga Pia Bonus CD
Dempagumi.inc,Franchouchou[Member 12]
"Zombie Land DEMPA !!"
TV anime "Zombie Land Saga" related songs
May 12
Kotobuki Squadron in the Wilderness Takeoff Girls in the Sky!Team song mini album
Harukaze Squadron[Member 19]
"FLAP!"
game"Kotobuki Squadron in the Wilderness Takeoff Girls in the Sky!] Related songs
2021/
May 3
TV anime "Shadowverse" Original Soundtracks[Note 1]
Amamiya Mimori (Kaede Hondo)
"You are in my eyes"
Television Animation"Shadow verse"Insert song
May 5
Okawa, cry together / Nope !!!!!
Franchouchou[Member 12]
"Taiga, cry together"
Television Animation"Zombie Land Saga Revenge"Opening theme
Have a dream and have no place to go back / Do you hate windy days?
"Days with dreams and no place to return"
TV anime "Zombie Land Saga Revenge" ending theme
May 6
Zombie Land Saga Revenge BD Volume 1 Bonus CD
Franchouchou[Member 12]
"REVENGE"
"Do you hate windy days?"
"Awakening RETURNER (Electric Returner Type" R ")"
Insert song for TV anime "Zombie Land Saga Revenge"
Franchouchou[Member 20]
"Furious Survival"
May 7
Zombie Land Saga Revenge BD Volume 2 Bonus CD
Franchouchou[Member 21]
"Bukkake for you"
"To light"
May 7
WIXOSS DIVA (A) LIVE BD Volume 2 Bonus CD
Dream girl[Member 22]
"D- (A) LIVE !!"
Television Animation"WIXOSS DIVA (A) LIVE"Ending theme
May 8
Zombie Land Saga Revenge BD Volume 3 Bonus CD
Franchouchou[Member 12]
"Tailwind Travelers"
Insert song for TV anime "Zombie Land Saga Revenge"
"Furious Survival (Complete Edition)"
TV anime "Zombie Land Saga Revenge" related songs
May 12
DOLLS Songs & Sounds 02
DOLLS[Member 16]
"Starry heart Starry love"
"Another Dreamer"
"Precious day"
Game "Project Tokyo Dolls" related songs
DOLLS team A[Member 23]
"I"
DOLLS[Member 16],NumberS[Member 24]
"Pray Breath"
"Beyond emotions"
"Beyond Emotions (E3 Ver.)"
2022/
May 4
To Kirameku MiLie[Note 1]
Mischief ☆ Straight[Member 25]
"Kirameku MiLie He"
game"Blue Archive -Blue Archive-] Related songs
May 4
Tomorrow's Sailor Clothes BD / DVD Volume 1 Limited Edition Bonus CD
Sakai Gakuen Middle School 1st grade 3rd group[Member 26]
"Beginning Setuna"
Television Animation"Tomorrow's sailor clothes"Opening theme
Book
Photo book
footnote
注 釈
Series list
Unit member
^ Sorako Harumiya (Chisato Mori), Yui Sezuki (Aisaka Yuka), Chino Haneda (Kaede Hondo)
^ a b c d Karasuma Chitose(Senbonsai), Yae Kugayama (Kaede Hondo), Kyo Katakura (Ishikawa Yui), Hyakuhana Sono (Suzuki Eri), Manyo Shibasaki (Saori Onishi)
^ a b c Glittering flower sound (Kaede Hondo), Shiho Kunieda (Shimoji Shimono)
^ a b Chiya (Ayaka Harada),Navy blue(Kaede Hondo), Koume (Kubo Yurika), Nono (Haruka Kamura)
^ Rakitama (Megumi Ban), Melory (Ayo Toyosaki), Shaki (Kazumi Yumi), Geracho (Riko Aikawa), Kiraris (Ryoka Yuki), Mogtan (Murase), Saline (Ayumu Fujimura), Paline (Yuri Shiratori), Misil (Fumiko Orikasa), Lychee (Ayaka Nanase)
^ Miki Hoshizuki (Aya Susaki), Wakaba Subaru (Sakura Ayane), Haruka Narumi (Amemiya Ten), Nozomi Amano (Nao Higashiyama), Yuri Mukai ((Sumire Uesaka), Tokiwa Kurumi (Saori Hayami), Hana Kougami (Kaede Hondo), Shiho Kunieda (Shimoji Shimono), Gradient Anko (Uchiyama Yumi), Renka Serizawa (Aino Nanjo), Kusunoki Asaba (Tamura Mushin), Sakura Fujimiya (Misaki Kuno), South Hinata (Hiromi Igarashi), Sadone (Yuki Aoi), Kaede Sendo (Ibuki Kido), cotton tree Michelle (Emi Kato), Asahina Shinmi (Hitomi Harada), Urami Hasumi (Maaya Uchida), Misaki (Takahashi Li)
^ Atami early summerKaede Hondo), Ginzan Shinsetsu (Maria Naganawa), Shirahama Honanbi (Yuna Taniguchi), Masana Wakura (Megumi Toda), Ibusuki Erina (Matsuda Susui)
^ Asagaya Mino Ai (Kaede Hondo), Kamiigusa Arisu (Senbonsai), Miko Koenji (Toshiro Hisako)
^ Hikaru Akao,Kaede Hondo,Saori Onishi,Takahashi Li
^ a b Sakura (Kaede Hondo), Misaki (Lynn), Shiori (Ishihara Kaori), Reina (Kubo Yurika), hiyo (Suzuki Eri), Nanami (Sakura Ayane), Aya (Ayana Taketatsu),Snow(Maaya Uchida), Yamada (Yurika Endo)
^ a b c d e f g h i j k Sakura Minamoto (Kaede Hondo), Saki Nikaido (Asano Tano), Ai Mizuno (Risa Taneda), Junko Konno (Maki Kawase), Yugiri (Rika Kinugawa), Lily Hoshikawa (Miumi Tanaka)
^ Sakura Minamoto (Kaede Hondo), Saki Nikaido (Asano Tano), Ai Mizuno (Risa Taneda), Junko Konno (Maki Kawase), Yugiri (Rika Kinugawa), Lily Hoshikawa (Miumi Tanaka), Tae Yamada (Three Stones)
^ Yohei (Kimura Subaru), one pack (Daiki Hamano), Dekami-chan & DJ KEN (Kaede Hondo), Big Boo (Takuya Nakajima)
^ a b Leo Igarashi (Kaede Hondo), Sora Matsuyama (Ikumi Hasegawa), Maki Hakukata (Maya Enoyoshi), Yumari Mizumori (Ishihara Kaori), Yuka Teramoto (Misaki Watada), Fumi Yokota (Manami Ito), Maina Ichii (Tachibana Hina)
^ a b c Sakura (Kaede Hondo), Misaki (Lynn), Shiori (Ishihara Kaori), Reina (Kubo Yurika), hiyo (Suzuki Eri), Nanami (Sakura Ayane), Aya (Ayana Taketatsu),Snow(Maaya Uchida), Yamada (Hibiki Yamamura)
^ Sakura (Kaede Hondo), Shiori (Ishihara Kaori), Reina (Kubo Yurika), hiyo (Suzuki Eri), Nanami (Sakura Ayane), Aya (Ayana Taketatsu)
^ a b Hime Goto (Takahashi Li), Kotake Sylvia (Ai Ozawa), Hina Higashi (Kaede Hondo), Riko Tachibana (Aki Waki)
^ Yuka (Kaede Hondo), Akari (Ayaka Nanase), Gerbera (Marika Takano), Erica (Haruka Shiraishi), Dahlia (Tomoyo Kurosawa), Bell (Mika Iwami)
^ Sakura Minamoto (Kaede Hondo), Saki Nikaido (Asano Tano), Junko Konno (Maki Kawase), Yugiri (Rika Kinugawa), Lily Hoshikawa (Miumi Tanaka)
^ Sakura Minamoto (Kaede Hondo), Saki Nikaido (Asano Tano), Ai Mizuno (Risa Taneda), Junko Konno (Maki Kawase), Yugiri (Rika Kinugawa), Lily Hoshikawa (Miumi Tanaka), Mai (Hanazawa Kana)
^ Azaela (M ・ A ・ O), Micaela (Kaede Hondo), Gabriella (Maaya Uchida)
^ Sakura (Kaede Hondo), Misaki (Lynn), Shiori (Ishihara Kaori)
^ Mia (Yumori Hanamoru), Dio (Honoka Inoue),Thoria(Minami Takahashi)
^ Alice(Miumi Tanaka), Al (Rena Kondo), Hifumi (Kaede Hondo), Yuka ()
^ Tomorrow alley (Manatsu Murakami), Erika Kizaki (Amemiya Ten), Toko Rabbit (Akira Kitou), Tomono Kojo (Shion Wakayama), Kei Tanigawa (Akira Sekine), Hitomi Washio (Shizuka Ishigami), After the water (Ishikawa Yui), Firefly Hiraiwa (Asakura Momo), Rina Shijo (Azusa Tadokoro), Shinko Neko (Miki Ito), Ryumori Ai (Mariya Ise), Ayumi Togeguchi (Mikami Shiori), Shizuka Jamori (Kobe Mitsuho), Yasuko Naeshiro (Kaede Hondo), Mai Tokano (Haruka Shiraishi), Minoru Okuma (Yoshimi Ohara)
Source
外部 リンク