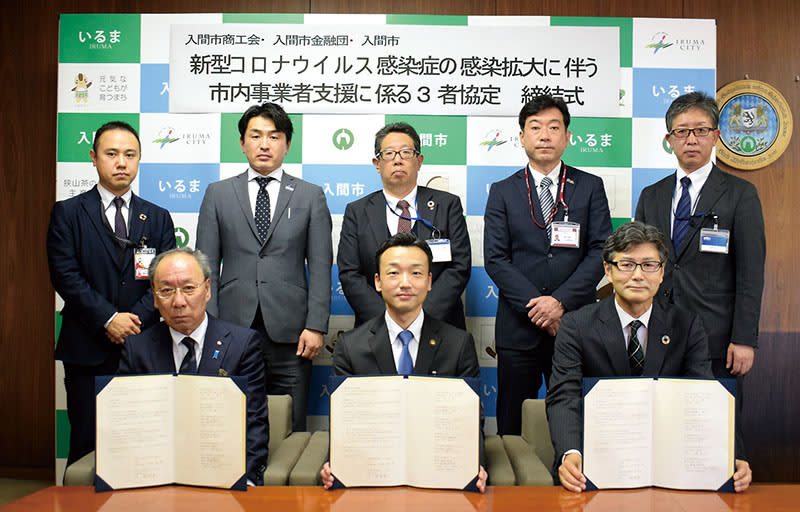 Chairman Eiichi Sekine (front row left), Mayor Riichiro Sugishima (center), Susumu Kanata (right) and others who signed the photo agreement = Iruma City Hall on the afternoon of the 12th
<New Corona> Cooperate with business support, conclude agreements with Saitama and Iruma City, etc. Aim to change business formats and challenge new fields
 
If you write the contents roughly
Businesses select support and consultation from the city, business and industry association, and 6 financial institutions in the city (Saitama Resona Bank, Musashino Bank, Ome Shinkin Bank, Saitamaken Shinkin Bank, Seibu Shinkin Bank, Hanno Shinkin Bank), and hope for the survey results. It will be provided to the previous financial institution and will be linked to the support of the business operator. 
Iruma City, Saitama Prefecture, announced on the 12th that the City Chamber of Commerce (Chairman Eiichi Sekine ... → Continue reading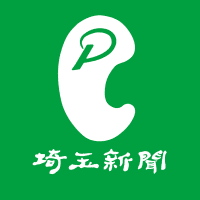 Saitama newspaper
Saitama Prefecture's only local newspaper. Carefully selected news from the prefecture!
---
Wikipedia related words
If there is no explanation, there is no corresponding item on Wikipedia.

Hanno Shinkin Bank
Hanno Shinkin Bank(Shinkin bank, Shinkin bank,English : Hanno Shinkin Bank) IsSaitamaHannoPut the head office inCredit union.
Overview / Store
Adjacent to Hanno City and western Saitama PrefectureTokyoTama areaWe will develop a store network centered on a part of.To cultivate corporate loansSaitamaIs also open[1].
History
Cooperation with the community
Agreements with local governments, economic organizations, other financial institutions, etc.
We have a partnership agreement with each city in the western part of the prefecture.Comprehensive cooperation agreement is Hanno City[2],Hidaka City[3]And Sayama City has a low interest rateHousing loanWe are cooperating in promoting the settlement of the younger generation by providing[4].
In 2019TokorozawaChamber of commerce,KawagoeChamber of Commerce and other placesChamber of CommerceConcluded an industrial promotion agreement to work on human resource development with[5].
Surugadai UniversityAnd in 2007Industry-academia collaborationConcluded an agreement[6].
3 credit unions in the prefecture (Saitamagata Shinkin Bank,Kawaguchi Shinkin Bank,Aoki Shinkin Bank) With SaitamaLabor BureauHas signed a comprehensive cooperation agreement to promote work style reform[7].
Saitama Seibu Lions
Saitama Seibu LionsHome ofSeibu DomeTo2010/Is advertising from.2011/(23)May 8Held "Hanno Shinkin Bank 60th Anniversary Appreciation Day" as a game sponsor.As a bent, a simulated banknote grabbing game was held as "60 yen commemorating the 60th anniversary of the founding !!", and the participants who grabbed the perfect 60 yen were presented with Lions goods.In addition, a collaboration between Saitama Seibu Lions and the bank, which was written to visitors as "Hanno Shinkin Bank supports Saitama Seibu Lions."FanWas distributed.
Surugadai University
2022/(Reiwa 4th year) Held on January 1nd and 2rdTokyo Hakone Round Trip University Ekiden Race(Hakone Ekiden) When you participate in the main race for the first timeSurugadai UniversityEkiden directorTokumoto KazuyoshiIn response to the call from "We are looking for a uniform sponsor!", The logo of the safe was printed on the right chest of the uniform worn by the athletes.[8].
footnote
Related item
外部 リンク
Saitamagata Shinkin Bank
Saitamagata Shinkin Bank(Saitama Kenshin Yokinko,English : The Saitamaken Shinkin Bank) IsSaitamaKumagayaA major company with its head office inCredit unionIs.The abbreviation is "Saitama. "
Overview
The official notation is the old font "Saitama"縣Although it is a "credit union," it is commonly used in a new font, "Saitama."PrefectureAlso written as "credit union".
The headquarters / head office is located in the northern part of Saitama prefecture.KumagayaHowever, the location of the prefectural office in 2016SaitamaUrawa-kuAcquired "Urawa Tokiwa Building" and relocated some headquarters functions.[2].
The business area is the entire Saitama prefectureTokyo-Chiba-Ibaraki-GunmaIs a part of the area[2].
The number of stores isSaitama Resona BankLess, butMusashino BankA little more, there is a head office in Saitama prefectureSecond regional bankIs a major financial institution in Saitama Prefecture, where there is no such thing.Designated proxy financial institutionBut also.In addition, the old bankruptcyOgawa Credit BankBusiness2001/(HeiseiSince taking over in 13), we have expanded our business area to the western part of Saitama prefecture.Hiki-gunOgawa TownAnd the countyArashiyama Town OfDesignated financial institutionBut also.
1994/(HeiseiFrom around 6)Urawa Red DiamondsWe issue design passbooks and cash cards.TMJIt is,Shinkin ATM Zero Net ServiceIs a member of, but unlike other Shinkin banks in Saitama PrefectureDeposit netIs not a member of.In addition, our warehouseSeven BankATM andView altteATM (JR East(Installed at major stations, etc.)Cash cardWithdrawal is available (useCommission108 yen + overtime fee will be charged).
Promotional activitiesSaitama newspaperWith paper advertisementSaitamaOnly TV commercials onSaitama Resona Bank,Musashino BankIs going in addition to themNACK5There is no radio commercial in.Also, in parallel on TV Saitama2009/(HeiseiIt has been broadcast since around 21)National Shinkin Bank Association OfRyo IshikawaOnly in the TV commercials in which, the logo of our warehouse is captioned under the joint name.
History
Major offices
Below, the two headquarters facilities and the head office are both located independently, but both are located.National Route 17Along[2].
Headquarters

Kumagaya Headquarters: 4-141 Kuge, Kumagaya City, Saitama Prefecture (with Kumagaya East Branch)
Urawa Tokiwa Building (Business Center): 5-15-15 Tokiwa, Urawa-ku, Saitama City, Saitama Prefecture

Head Office Sales Department: 1-130-1 Honcho, Kumagaya City, Saitama Prefecture Saitama Kumagaya Honcho Building (with Kamino Branch)
Store / out-of-store ATM
As of January 2022, all stores and ATMs are located in Saitama Prefecture.[5], The number of stores is 96 in total, 16 of which are after 2017In-store store method(Until 2015, it was abolished and integrated)[6].
List of stores in the store
Koshigaya Hirakata Branch: Moved to Obukuro Branch
Haraichi Branch: Moved to Ageo Branch
Takasaka Branch: Moved to Higashimatsuyama Branch
Konosu West Exit Branch: Moved to Konosu Branch
Miyashiro Branch: Moved to Sugito Branch
Hanasaki Branch / Kisai Branch: Moved to Kazo Branch
Kagohara Minami Branch: Moved to Kagohara Branch
Kawagoe Minami Branch: Moved to Kawagoe Branch
Okegawa West Exit Branch: Moved to Okegawa Branch
Kitamoto West Exit Branch: Moved to Kitamoto Branch
Kamino Branch: Moved to the head office sales department
Nagase Branch: Moved to Moroyama Branch
Urawa Higashi Branch: Moved to Urawa Branch
Forest Park Branch: Moved to Higashimatsuyama Branch
Nanari Branch: Moved to Owada Branch
Related Companies
Saishin Business Service Co., Ltd.
Saishin Lease Co., Ltd.
footnote
Related item
外部 リンク